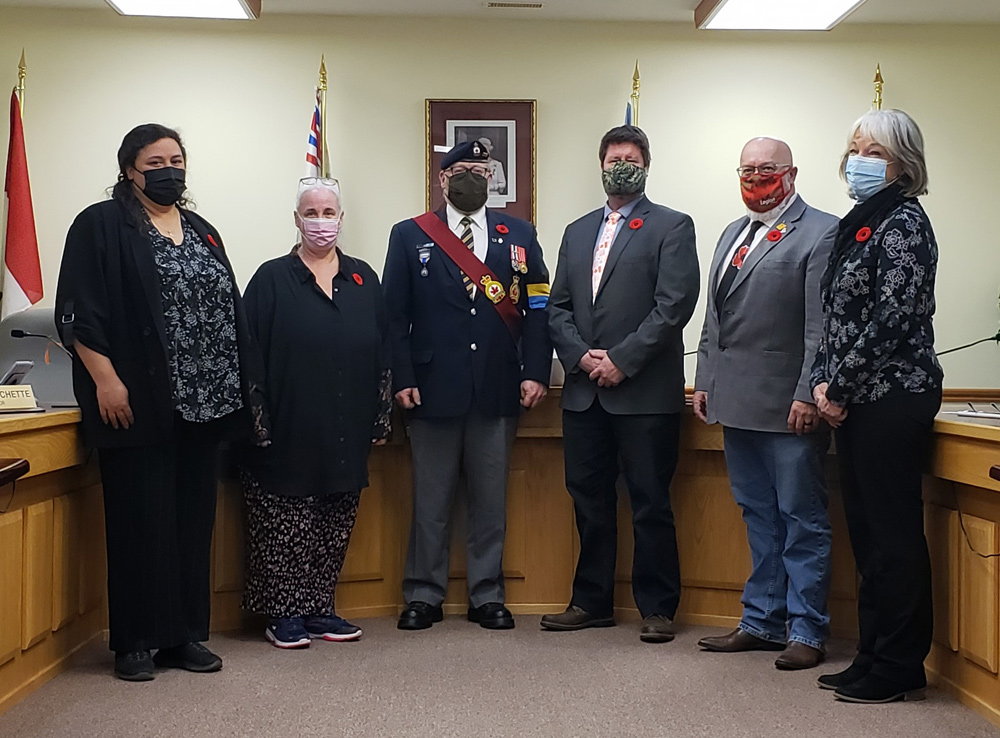 By Andrea Arnold
Mayor Owen Torgerson started October 26, 2021's meeting by calling a public hearing to order, to address the following temporary use permit applications.
Permit 21-03- 1945 Cranberry Place
Permit 21-04- 1133 14th
Permit 21-05- 1070 14th
As of noon on October 26, 2021, no written submissions were handed into the Village, no members of the public or Council had further questions or comments.
Following the public hearing, the regular Council meeting was called to order.
First Poppy presentation
Branch President Clayton Gee from the Royal Legion Branch #266 was in attendance to present the first poppy to Mayor Torgerson, and Council. 2021 marks the 100th Anniversary of the poppy as a symbol of remembrance.
Appointments
Council appointed Councillor Pearson to the Canoe Valley Recreation Community Consultation Committee for a one year term.
Councillor Blanchette was appointed by Council to continue service to the Valemount and District Fire and Rescue Community Consultation Committee for a one year term.
Councillor Torgerson was appointed as Regional Director to the Regional District of Fraser Fort George Board, and Councillor Gee as alternate, for a one year term beginning November 18, 2021.
Village of Valemount Project Update report
This report was created to ensure Councillors are aware of the current and upcoming projects being carried out by village staff as the CAO is departing. The update is divided into three categories: In progress, Complete and Future projects (2022 for review).
Bylaw Enforcement Summary for August and September 2021 received for information.
Centennial Park – parking concerns (along Dogwood). This report is in response to Councillor Gee's request for a cost estimate for making changes to increase visibility and enhancing safety. New signage indicating parallel parking only has been installed. The area will be monitored to see if the signage is effective, or if further action is needed. The report outlines two more extensive options: Relocating the fence further off the street – estimated cost $115,500, and paving the existing area to create clear parallel parking areas – estimated cost $61,000.
Extra funding for well drilling
Council approved an additional $20,140 from the Northern Capital Planning Grant for the purpose of supporting additional costs to the well drilling program with Kala Geosciences Ltd. The additional costs are required due to supply chain issues, the cost of a second well and a $5,000 contingency fund to cover any added future expense.
Business facade funding
Council directed staff to apply to the Northern Development Initiative Trust (NDIT) – Business Facade Improvement Program in order to continue offering support to businesses through 2022. If successful, the Village will receive up $20,000 to ensure the maximum amount of funding be available for projects.
Temporary Use Permits
Council approved the following temporary use permit applications proposing temporary residential structures:
Permit 21-03- 1945 Cranberry Place received final approval
Permit 21-04- 1133 14th Avenue received final approval
Permit 21-05- 1070 14th Avenue received final approval
Permit 21-06- 23 Cedar Street received initial approval
Bylaws & Policies
Council adopted the Village of Valemount Permissive Tax Exemption Bylaw No. 851,2021 as presented. Churches and both senior housing units are considered statutory tax exemptions as per section 220 of the Community Charter and entitled to a 100% exemption.
Council gave the Remuneration Bylaw No. 853, 2021 1st, 2nd and 3rd reading. The changes to the bylaw are made yearly to keep consistent and provide a 2% increase for each of the members of Council.
In-Camera
Council moved to proceed to an in-camera meeting for the consideration of two items per Section 90 (1)(c) labour relations or other employee relations; and (e) the acquisition, disposition or expropriation of land or improvements, if the council considers that disclosure could reasonably be expected to harm the interests of the municipality.