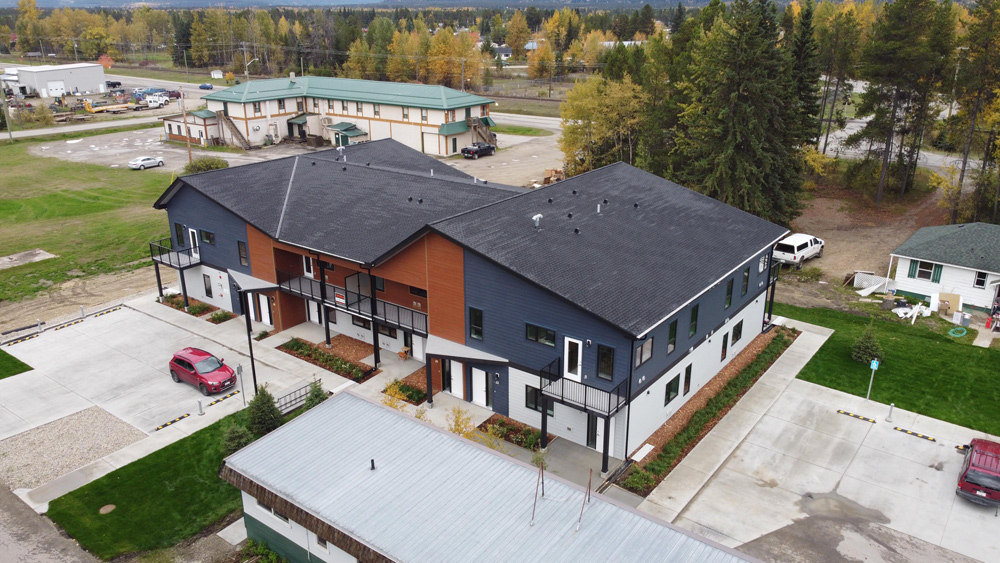 By Laura Keil
Mable Elmore, BC's Parliamentary Secretary for Seniors' Services and Long-Term Care, announced the official opening of Juniper Square, a new 13-unit apartment at 1295 Gordon Street in Valemount.
"I am so pleased that, with the opening of this building, seniors and families in Valemount can have the peace of mind that comes with knowing they have safe, secure and affordable housing," said Elmore. "Communities are healthier when everyone has access to homes they can afford."
Juniper Square is a two-storey building with 1-, 2-, and 3-bedroom units. Monthly rents vary, depending on the resident's household income and the size of the unit.
There are three units for people with very low incomes and rents range from $375 to $660 per month. There are six rent-geared-to-income units for people with low to moderate incomes, and these rents range from $475 to $1100 per month. There are also four affordable market units for people with moderate incomes, these rents range from $850 to $1,050 per month.
Riette Kenkel is the president of the Valemount Affordable Rentals Society, the organization that lobbied for and coordinated the new building.
"We are excited to support the Valemount community with much-needed housing opportunities now that the Juniper Square project is completed," said Kenkel.
Not all units filled
Kenkel said that there is still vacancy at Juniper Square despite the red hot rental market in Valemount.
"We've had a lot of applications from people who are not eligible because we do have to do income testing," she said.
There is a maximum income that people can make in order to be considered for subsidized housing, she explained.
"A lot of the people who are applying are working in jobs that put them over that threshold," she said.
"We have four units still available, three 2-bedroom units and one 3-bedroom unit."
A Partnership
Johnny Strilaeff, president and CEO, Columbia Basin Trust wished all the best to new residents of Juniper Square.
"The trust has heard from Columbia Basin residents that affordable housing is a priority," said Strilaeff said. "This project supports the Valemount community to respond to this need."
The Government of Canada provided $300,000 to the project through the Federal Bilateral Canada Community Housing Initiative Grant. Columbia Basin Trust provided $169,400 to the project. The Village of Valemount waived $25,500 in development costs. The Province, through BC Housing, provided a grant of approximately $1.34M. BC Housing is also providing VARS with an annual operating subsidy of approximately $86,000. VARS provided the land for the project, and will own and operate the building.
How to get involved
Kenkel said that the Valemount Affordable Rentals Society is looking for more board members.
"If people in the community are interested, we need board members and volunteers to help with things like grounds maintenance," she said.
The VARS AGM is on Tuesday, November 23 at 4pm on Zoom. It's open to the public. Anyone wishing to join us can email [email protected] to request a meeting package and zoom link.