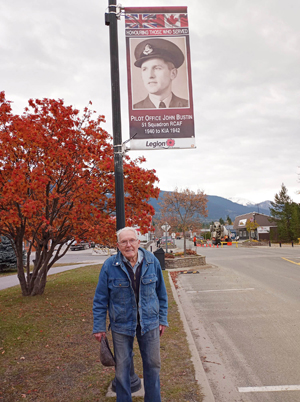 By Michael Piasetzki
Pilot Officer John William Arthur Bustin, whose son Byron lives in Valemount with his wife Carol, paid the ultimate price for his country during the Second World War.
Bustin, who was born in Salmo but enlisted as a volunteer in the Canadian army in Toronto in 1940, was killed in action on June 30, 1942 while flying over enemy territory as part of a Royal Air Force crew. Bustin was flying on a Vickers Wellington aircraft, a British twin-engine long-range medium bomber which only flew at night. He was 31 years old and Byron was just 7 years old.
Bustin courageously flew on 23 missions in total before losing his life for his country. On two of those missions he was forced to "ditch," along with his crew. That meant aborting the mission and going down into the dark and murky English Channel waters where the crew quickly got out of the aircraft wearing life jackets and hopped into small life crafts, only to be picked up by Allied patrol torpedo boats and brought back to safety.
"My father's role on the Vickers Wellington was as a wireless operator," said Byron Bustin, 85, who moved to Valemount in 1968. "He was trained in Canada during the 1930s as a telegrapher with the Canadian Pacific Railway. When the war broke out, he set up wireless schools in different parts of Canada. Wireless operators used the Morse Code with a key."
A severe shortage of wireless operators who knew how to use the Morse Code on British aircrafts triggered Bustin to sign up with the Royal Air Force in 1941. His role on the aircraft was to use his morse code experience as a telegrapher to send and receive signal communications from fellow Allied bombers along on the mission.
"When the Vickers Wellington would take off with the full crew and two tons of bombs my father would make contact with other aircrafts on the mission using his morse code experience," Byron Buntin said. "Once they got past the English Channel, they went on radio silence. They only flew at night. They needed the wireless operator to coordinate things."
Paying the ultimate sacrifice, Buntin was shot and killed inside his aircraft on his final mission. His crew however, was able to return to England. Bustin was buried on July 3, 1942 at Feltwell (St. Nicholas) Churchyard in Norfolk, England.
When asked what Remembrance Day meant to him, Byron Bustin said it shows how stupid war really is.
"That all these particularly young men, including my late father, gave up their lives while all the munitions could have been used for better results was a real shame," he said. "Instead it was used for all this misery."