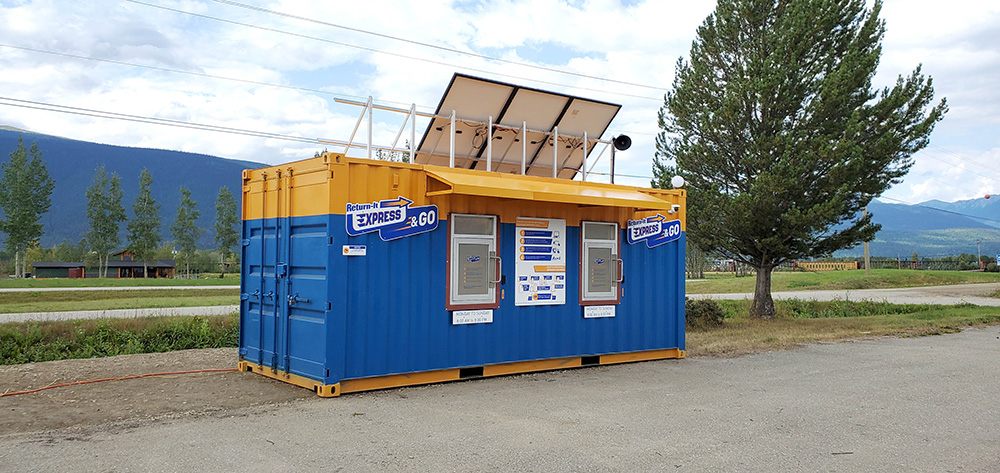 By Andrea Arnold
Residents of McBride will soon have a local way to personally return recyclables for cash once again. A "Return-It Express & GO" recycling station has been set up on the side of the Public Works building at 600 NW Frontage road.
The station is the first of its kind to be operational in Northern BC, along with six others located in more southern communities.
In a press release sent out by Return-In on Monday, August 23, 2021, Chris Tupy, Chief Administrative Officer of the Village of McBride said, "The installation of the new Express & GO recycling station directly supports the Village of McBride's first Strategic Priority, which is to strive towards long term economic resiliency and sustainability; as well as bolstering community vibrancy and well-being. We are pleased to partner with Return-It, who understands these priorities. Another benefit is that through the Express system, residents also have the option and ability to support our local community by donating their deposit refunds to a local charity."
Prior to the installation of the facility, residents were having to transport empty beverage containers to out-of-town depots an hour or more away, the closest being in Valemount or Prince George.
"Bringing convenient solutions that encourage recycling is what we do at Return-It, and we are committed to working with communities to address their specific needs," said Allen Langdon, President and CEO of Return-It in the press release. "We are pleased to be bringing McBride residents a new recycling option, and we want to thank the Village of McBride for all their support."
In order to use the system, individuals will need to set up an account on www.return-it.ca. Once the account is set up, clients will have the ability to visit any Express kiosk in BC to print off individualized labels for their returns. In McBride, the kiosk is available in the Farm Store during their regular business hours Monday-Tuesday, Thursday-Friday 10-5, Wednesday 11-5 and Saturday 10-2. At any one time, the machine will print off up to six labels per account.
The Return-It website recommends that large (36"x30") clear or transparent bags are used for deposits. The pre-printed label needs to be securely attached to the bag as this is the way the deposit is linked back to you.
In preparing the bag, they ask that you limit the number of heavy items per bag to 12. More than that can cause breakage and bag destruction. If items fall out of the bags, there is no way to track them back to the right account.
Also, only beverage containers purchased in British Columbia are eligible for refund.
At the kiosk, customers must input their access code to gain access to the drop window.
The kiosk will be emptied approximately once a week. They have set up cameras not only on the outside of the structure, but also inside, and if they notice a trend of it getting full faster, the schedule may be adjusted. The bags are taken to a counting facility in Prince George. Details of deposits and refunds will be entered into each person's "Return-It" account.
The website explains the methods of payment: "You can choose to save up multiple refunds and/or redeem your account balance at any time by Interac e-transfer or a mailed cheque." At no time will customers be asked to provide any banking information.
They also offer the option of direct donation to either another individual or charity.
During the registration process, "group" is one of the options given. If there is a local situation in need of financial support, or a specific fundraising effort, a group can be created and the access number made public. Anyone wanting to donate can print off labels directing the returns be deposited into the correct account. In order to gain access to the drop-off kiosk, each donating individual still needs to have their own PIN to open the drop door.
"We want to thank Return-It for working with us to increase our community's access to recycling solutions," said Gene Runtz, Mayor of McBride, as a part of the press release. "This new recycling station has a positive environmental impact as it encourages residents of our village to keep recyclable materials out of landfills – without having to travel to a neighbouring town to responsibly recycle their beverage container for a deposit refund."
The McBride drop location can be accessed between 8am – 8pm.
Return-It Ambassador Team will be onsite 12pm-4pm Thursday August 26 to Sunday August 29 to help residents learn about and understand the process.