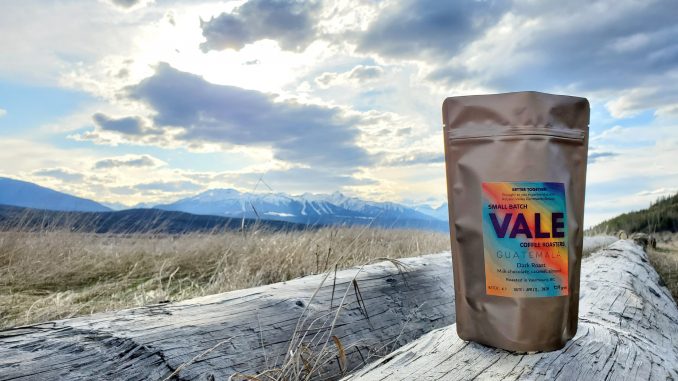 By Andru McCracken
---
The four entrepreneurs behind VALE Coffee share an abiding love for good coffee and the village they're making it in. VALE Coffee is a small batch coffee roastery based in the Trading Post on Main Street in Valemount.
Two couples, Rena O'Brien and Ryker Indjic and Megan Vicente and Elliot Ingles say they decided to get into business with each other because of their interest in Valemount.
"We bonded over our love for this place and our certainty of its potential," said Megan.
Megan and Elliot moved to Valemount from Jasper without a concrete plan, the major motivation was a notion: to get "on the Valemount train."
"When we started coming to Valemount and visiting and going to the brewery, it just felt kind of magical and we wanted in," said Megan.
Rena and Ryker were looking to buy a house in Valemount, but they worried about finding work, so they decided to buy a commercial building instead and make jobs for themselves. What kinds of jobs they would be, they figured out later.
[rl_gallery id="42948″]
L to R: Megan, Elliot, Rena and Ryker
"It was hard to think about that before we bought the building, we had to come and live here for a little while to get a feel for the town," said Ryker.
Buying this building, our goals were to fill it with businesses and make the opportunity for us to be employed and create jobs," said Rena.
It was after the move and after purchasing the building that coffee roasting revealed itself as the thing to do.
Rena said everything they do confirms their choice.
"The willingness of people here to be supportive, to be community-minded – it's an absolute breath of fresh air," said Rena.
When they first moved in and started working outside, people would stop by and offer help, or a tool to make the work easier. To Rena, it was a sign they were on the right path.
"What's happening here is heading the direction that aligns with what my values are," said Ryker.
Though the global pandemic caused them to pause their opening, it wasn't for too long, and has forced them to start slow. It seems to be working out.
The couples are serious about coffee: they hired Doug Graf, a co-owner of Vintage Coffee who works internationally to help them set up their roaster and to teach them how to roast.
To order, find them online at valecoffee.ca