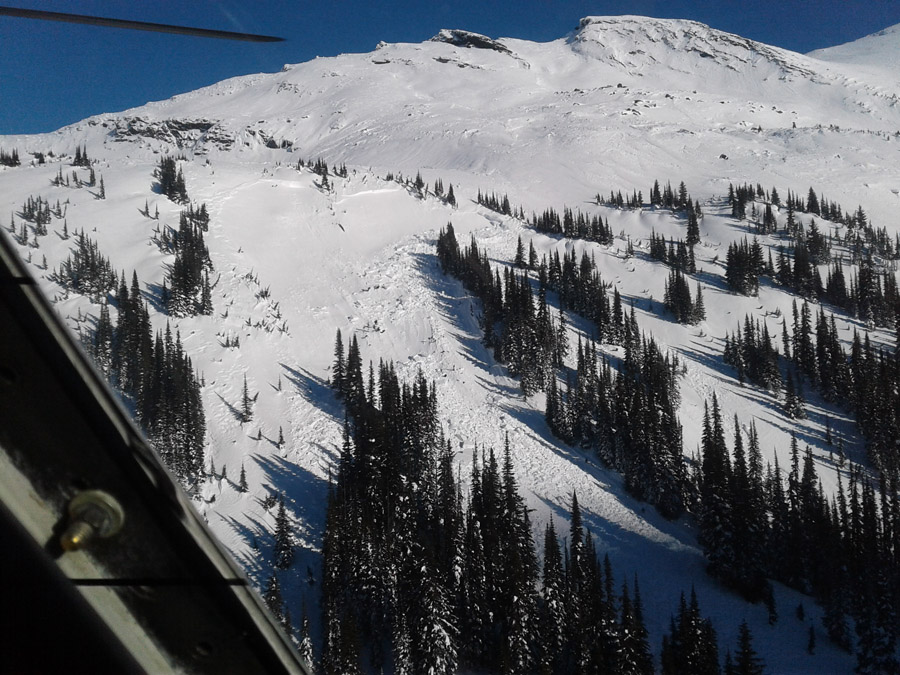 By Laura Keil
One person died in an avalanche last weekend south of Valemount and near Blue River, said Cpl. Madonna Saunderson, North District Media Relations.
The call came into the RCMP on Saturday February 9th 2019 at 3:12 PM.
According to Avalanche Canada, a group of four snowmobilers was on or near the south-facing slopes above Oventop Creek in the Bone Creek drainage, about 70 kms south of Valemount. The sledders noticed one member was separated from the group and began a search. The missing group member was caught in a size 2 wind slab avalanche 40 metres wide and ran 150-200 m. The avalanche was triggered by the rider at 2100 metres on a south aspect, an Avalanche Canada report says, and wind loading likely was a factor. The deceased man was buried under 1 m of snow, up against a tree.
On Friday a natural size 2 wind slab avalanche was observed on an east facing aspect near 3000m. Avalanche Canada said strong to extreme wind Friday night into Saturday may have initiated a natural wind slab avalanche cycle.
The BC Coroners Service is continuing the investigation.
On Thursday, Avalanche Canada issued a special avalanche warning to backcountry users due to a buried weak layer in much of the Interior B.C. snowpack at and below treeline – areas that are usually deemed safe.
On Sunday, Avalanche Canada said the North Columbias are the hotspot for human triggered persistent slab avalanches as a weak layer that was buried in mid-January continues to be sensitive to human triggers:
"This layer is touchy enough for avalanches to be triggered remotely (from a distance). Skier and snowmobile triggered avalanches from size 1.5-2.5 have been reported on all aspects at and below treeline almost every day for the last two weeks. The bulk of this activity is occurring below 1900 m."
Avalanche Canada Snowpack Summary
30-80 cm of recent new snow sits on surface hoar (feathery crystals), facets (sugary snow), wind slabs and a crust on sun-exposed slopes. In many areas, recent winds have redistributed the new snow, forming wind slabs on all aspects due to shifting wind directions.
The most notable feature in the snowpack at this time is a persistent weak layer that was buried in mid January, which is now buried 50-100 cm. This layer consists primarily of surface hoar, however there is also a crust associated with it on sun-exposed slopes. This layer is the most prominent at treeline and below, and continues to produce large avalanches.