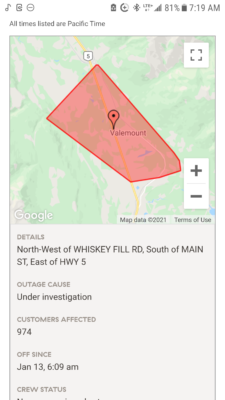 By Laura Keil
---
According to BC Hydro, 974 customers in the Valemount area are experiencing a power outage.
The power was briefly restored around 5:30am but went down again around 6am.
As of 7am, the cause had not yet been determined and no crew had been assigned.
Heavy snowfall overnight has led to travel advisories spanning from Blue River to the Alberta border.
There's a travel advisory in effect for Hwy 5 between Stewart St and the end of Highway 5 for 109.7 km (Tete Jaune to Blue River) due to limited visibility with heavy snowfall.
There's another travel advisory in effect for Hwy 16 between Hwy 5/16 JCT at Tete Jaune and BC AB Border for 76.6 km (Tete Jaune to BC-Alberta Border) due to limited visibility with heavy snowfall.
A BC Hydro press release said strong winds have left about 100,000 customers without power across the province, the hardest hit areas being Abbotsford, Victoria and Vernon.
"As the storm is moving its way across the province, its causing extensive damage to BC Hydro's electrical system due to branches and trees breaking contacting its equipment," the release said. "More outages are expected as a result of the wind."
BC Hydro is also receiving reports of downed power lines. A downed power line is considered an emergency situation and members of the public should stay at least 10 metres back and call 911 immediately.
BC Hydro will provide updated estimates for power restoration as they become available at bchydro.com/outages