By Andru McCracken
---
If the drugs you use are at risk of being contaminated with fentanyl, you might consider getting an alternative from a safer source… like your doctor.
The BC Centre for Substance Use (BCCSU) created 'risk mitigation guidance' for doctors in late March as a result of the growing number of overdose deaths. Northern Health Authority partnered with them on it, but a spokesperson for the BCCSU said that so far very few doctors are using it.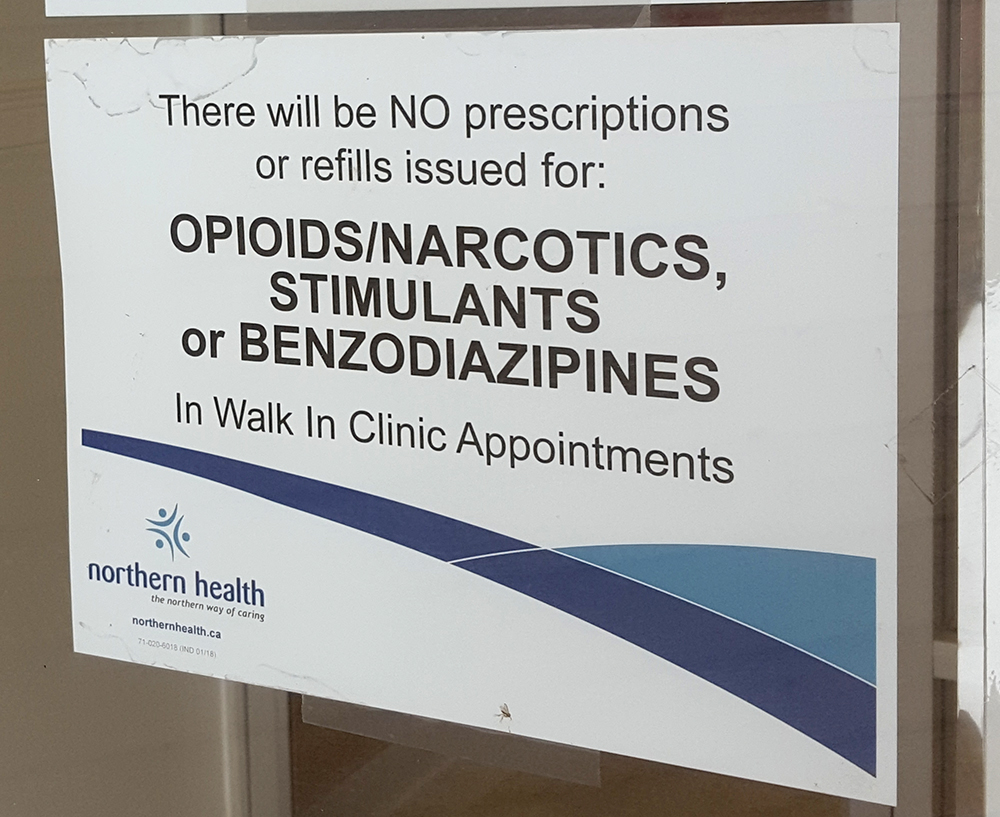 But according to Doctor Ray Markham, he and several doctors working in the Robson Valley have the knowledge and the tools to help.
"We do have opioid agonist therapy options for our patients in the valley," said Markham.
He said methadone is one of the drugs that has been prescribed locally to patients who are at risk of the toxic drug supply.
According to the Centre for Addiction and Mental Health the therapy involves using long-acting opioids to replace shorter-acting opioids, preventing withdrawal for 24 to 36 hours – without causing a person to get high. It can help reduce or eliminate cravings for opioid drugs.
Guy Felicella, Peer Clinical Advisor for the BC Centre for Substance Use, said the guidance is intended for just this: to allow doctors to prescribe pharmaceuticals to keep users from risking toxic street drugs. However, across the province, the roll out of the program has been 'bumpy.'
"It has been extremely challenging because some doctors are uncomfortable prescribing," said Felicella.
He said the guidelines encourage doctors to use a medical and harm reduction approach to look at risks to the individual.
"More people die of drug overdoses than COVID, suicide, homicide, and car crashes combined. Let that sink in. If you give people the freedom, they don't have to go out and do what they do," he said. "Doing crime to support their substance use… you could alleviate that."
Felicella believes decades of bad drug policy have set Canada up for this situation and that a novel approach is required.
"We have tried everything but supporting drug users. They are already doing it and dying because of it. Allowing overdose deaths to continue doesn't stop people from using substances. It is better to try something new than not do anything and let people die."
A fatal double standard
Felicella said that the stigma and discrimination facing drug users is just as deadly as the drugs themselves, and points to the double standard with alcohol.
"There is an artificial division of what is acceptable and what is bad," he said. "Society has created this thing. We're going about it wrong. We're punishing people for struggling. The environment in jail doesn't help anyone get better."
Creating a safe supply
The risk mitigation guidance isn't the last change the BC Centre for Substance Use hopes to make to how the province handles illicit drugs. The organization is currently working on a Safe Supply Policy, and Felicella believes that it could be adopted by the province soon.
"What we want is a continuum of care for people struggling and starting a safe supply," he said.
"We could really change the trajectory from a health perspective and make a safer community for everybody."
Personal experience
Felicella comes by his title as Peer Clinical Advisor honestly. He was a drug user for 30 years and spent 20 years addicted to heroin.
"It is such a grind to go out and get your drugs every day. I did it every day for 3 decades. It takes a toll."
When fentanyl hit the street in 2012 he ended up overdosing six times in nine months.
"I knew I was going to die on my addiction or die trying to get out," he said.
The good news is, Felicella managed to get off the drug for one day. Then another. And another. He's now been clean for 8 years, has a wife and three kids and a job.
He likens the burnout that drug users face to the overdose crisis facing the province.
"Everything is being taxed, people in harm reduction services are burning out, health care workers are burning out," he said.
"We need to stop people from dying first and foremost and build a continuum of care and [within a] few days have access to treatment."
"This is not a homeless issue, this is an everybody issue. The majority of people are dying in private residences, in houses like yours and mine. Heads gravitate to the homeless or the downtown eastside. But it's province-wide. It tells you we are failing in every community. This is not normal."
If you are in need medication-assisted treatment, talk to your doctor, nurse practitioner, or call 8-1-1 for more information.