By Andru McCracken
---
Clearwater RCMP are asking for the public's help to identify two men involved in a confrontation with Tiny House Warriors in Blue River.
Tensions have been rising in Blue River where the Tiny House Warriors are occupying a stretch of Murtle Lake Road in opposition to the twinning of the Trans Mountain Pipeline, setting up Blue River as a strategic centre in an international battle about the future of the planet.
According to activist Kanahus Manuel, the leader of the Tiny House Warriors, a violent episode took place on April 19. She posted a video of an interchange between herself and two men involved in the incident on twitter.
The fullest account of what happened at the camp comes from a letter from Amnesty International Canada's Secretary General Alex Neve to RCMP and BC Premier John Horgan.
"On April 19, at approximately 10:45 pm, Kanahus Manuel, a Secwepemc land defender, and a male Indigenous land defender who were in the Tiny House Warriors camp heard a noise suggestive of a disturbance outside. Three men and one woman had forcefully driven off-road vehicles through a number of large signs and banners that mark the camp's entrance.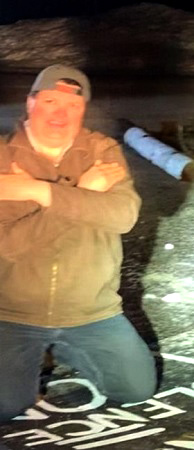 The three men, who were demonstrably aggressive, tore down several red dresses set up at the camp as a tribute to missing and murdered Indigenous women, girls, and Two Spirit people, before physically attacking the male Indigenous land defender. Kanahus Manuel had turned on the high beams of her truck to illuminate the attackers but feared for her safety and ran for cover to one of the larger tiny houses. One of the intruders got into her truck, where the keys were still in the ignition, and drove it at high speed into the house in which she had sought refuge. The impact shook the home substantially, causing Kanahus Manuel to fall and knocking numerous items onto the floor. She had been shining a light from the window to make it evident that she was inside. The intruder then drove the truck into a telephone pole."
Neve was writing to Deputy Commissioner of the RCMP 'E' Division Jennifer Strachan and Premier John Horgan asking for an investigation that would have the 'full confidence of the Tiny House Warriors and of Secwepemc leadership,' for protection against future attacks, and also to make clear that attacks against 'Indigenous, land, environmental and human rights defenders will not be tolerated.'
"We urge the government of British Columbia and the RCMP to respond decisively to this incident in a manner that demonstrates full recognition of the important role played by Indigenous, land and environmental human rights defenders in the province and sends a strong message that attacks and threats against them will not be tolerated," wrote Neve.
There is a short documentary about the incident made by Manuel's aunt posted online that provides a detailed account of the events of that night. tinyurl.com/bluetinywarriors
Background
The Tiny House Warriors are on a mission to stop the Trans Mountain pipeline from being built by placing tiny homes in strategic locations along the pipeline route. They do so in the name of the Secwepemc people. It's worth noting that other Secwepemc people, represented by the Simpcw First Nation, support the pipeline.
Global support
If you are wondering whether or not Blue River is in fact at centre stage in the world's tussle with climate change and climate activism, in November, Tiny House Warrior Kanahus Manuel joined Canadian author and activist Naomi Klein (a New York Times best-selling author) on stage at her book release at the Chan Centre in Vancouver in collaboration with the UBC School of Public Policy & Global Affairs. Klein has written seven books including the Shock Doctrine, and This Changes Everything. Her latest is On Fire: The (Burning) Case for a Green New Deal.
It's dedicated to Kanahus' father, Arthur Manuel.
At the book release Klein said that the fight for Indigenous rights and title is inseparable from the fight for a habitable planet.
"They are one and the same," said Klein.
She also asked students to take chances and go get arrested.
If you know these men
Back in Clearwater, the RCMP are asking the men to come forward.
"We are also strongly urging either of these males to immediately come forward to speak with our investigators," said Sgt. Grant Simpson, Detachment Commander for the Clearwater RCMP. "We are taking this matter seriously."
If you recognize either of the unknown individuals, or you have any additional information that may assist investigators, you are asked to contact the Clearwater RCMP at 250-674-2237. Or remain completely anonymous by calling Crime Stoppers at 1-800-222-8477.