By Andru McCracken
---
Even as COVID-19 reveals cracks in the Canadian food processing and distribution system, a McBride man is advocating for a new approach to harvesting animals that could bolster the province's capacity to slaughter and process meat… and it's gaining traction.
Mark Roth of Uncle Mark's Custom Meat Cutting said his project started with a frank conversation with BC's agriculture minister Lana Popham while she was visiting McBride.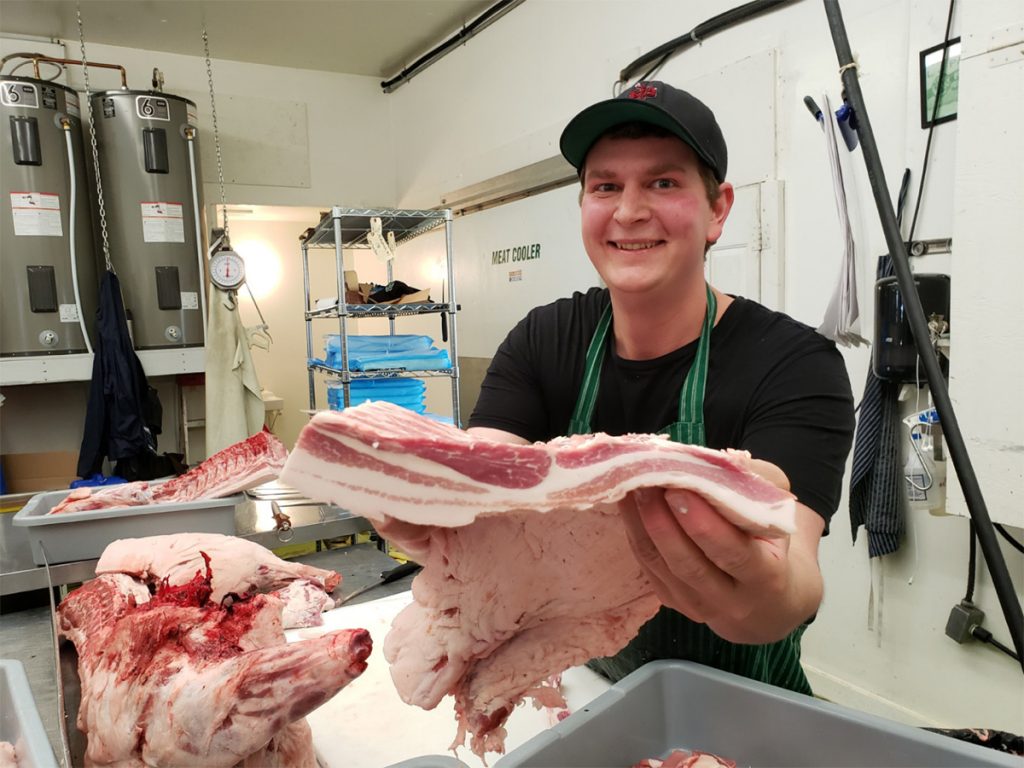 "She was standing right where you are now," said Roth, across a butcher table full of local pork.
Roth told Popham how the current system is bad for animals, meat quality, the environment and prevents many local farmers from expanding their herds.
"She said, 'What can we do to help you?' I said, 'this'" and he laid out his plan to change the way animals are slaughtered and inspected in rural places."
Roth's proposal is to kill the animals on the farm where they were raised. Then a mobile slaughter trailer would be used to skin and prepare the carcass. A government inspector would ensure the meat was safe for consumption.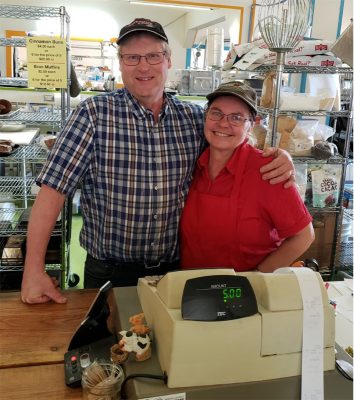 At that point it could be transported to high end grocery stores, butcher shops, even large restaurants, potentially fetching a premium for valley beef.
Roth believes this would encourage small farmers to raise more beef and open up new and better markets.
The system has two components: a 16-ft refrigerated cube van and a trailer with the same health standards as a class A or B abattoir, good lighting, washable floors and surfaces and clean water.
"It's really not that complicated," he said.
There is already a similar mobile harvest unit allowed in the province, but it's pulled behind a tractor trailer, requires an elaborate and expensive docking station and is on too big a scale for most rural places.
Roth said his project has found favour with the provincial agriculture minister Popham and the National Research Council's Industrial Research Assistance Program. He's working with a
Prince George-based manufacturer on a proposal and, so far, things are looking good. He expects more news soon.
Roth believes animal comfort will cater to what he calls 'political vegetarians,' people who dislike feedlots and the meat industry for its disregard for animal well-being. His family avoids sending animals to slaughterhouses for the same reason.
"From an ethical standpoint we don't like taking beef off our farm," he said.
It could also mean more money for local farms.
"I want to see somebody marketing local meat," he said.
Roth said in the coming weeks he will get news on how much of the project will be covered by the federal program. He's working with a trailer manufacturer based in Prince George to design the first one.
"The goal is to make a replicable project," he said.
Roth is no stranger to the big meat-packing plants, some of which are currently under lock down due to COVID-19. He believes it is simply because butchers at these plants work in such close quarters.
The proposal would increase the slaughter and meat processing capacity in BC at exactly the time it has been felt wanting.
"Turns out we are at exactly the right time," said Roth.