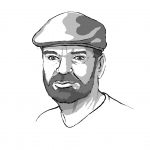 By Andru McCracken, Editor
---
Our province and country looked into the gaping maw of COVID-19 and, without flinching, made the right choices to keep people safe. Tragically, others needed to learn the cruel lesson from the virus first. China, Italy, France and Spain to name a few. For whatever reason, our exposure to the virus was later than others and we were able to learn from these terrible experiences.
The virus, and the rules to control the virus, touch every aspect of our lives.
These rules, these interventions, will have massive implications.
Some of the people worst off are entrepreneurs who have hitherto dedicated their lives to serving others. Many service sector entrepreneurs have had their livelihoods ripped from them: they are incurring huge debt and massive uncertainty and the world that they will reopen to – should they survive – will be one ravaged by a once-in-a-lifetime plague.
While we are gaining the upper hand against the virus, the toll has been and will be huge.
We have taken the high road – there was no other road to travel – but that doesn't make where we are less bad for the people suffering. Government appears to be trying to catch all-comers with their compensation programs, but it's worth noting that entrepreneurs aren't the type to seek out those programs.
They may not be particularly well adapted to looking for help or writing applications. Many entrepreneurs do what they do because of who they are: independent to a fault.
And our valleys have a surprising number of entrepreneurs.
If you know of entrepreneurs suffering, advise them, encourage them, badger them to ensure they participate in these programs.
Everything has been turned on its head. Some are worried about a new and sinister order of things. In many respects, I can't blame them. So much has changed so quickly.
Here's a quick recap.
The health of our most fragile members of society is being valued more than the economy. Government ordered a shutdown of anything that could imperil lives, regardless of its service to the almighty dollar.
Not something I thought I would see in my lifetime.
Then they announce sweeping aid packages to ensure that as many as people as possible do not fall into the hands of debtors. We have often heard of big business bailouts, but this is the first I've seen of bailouts for the little guy.
This is the Canada I dreamed about but doubted existed. That we cared more for people than for profit, that when people face overwhelming odds we try and give them a hand up and make every effort to ensure they succeed.
Is it possible we have rediscovered who we are? A people who value life. A people who care. A place where human health comes first and profits are second.
The rules on being Canadian have been rewritten, at least during a pandemic.
For those entrepreneurs that don't make it through this, I believe it's a real loss to us all.
For those entrepreneurs who do manage to shepherd their restaurant, their salon, their suite to the other side, I sure hope we have a quick recovery. I hope we can learn again to go out and enjoy ourselves and the hospitality local entrepreneurs have always offered. Imagine going out to the salon, then meeting friends for drinks and food at your favourite local restaurant, sitting side by side raising a glass to togetherness.
That day will come and gosh I hope our favourite salons and restaurants are still here.