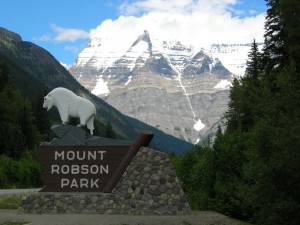 By Laura Keil
with files from BC government
BC Parks has temporarily closed all provincial parks and protected areas to visitors as of April 8th, 2020 in response to a call for increased action to address COVID-19.
Federal and provincial directives have urged people to stay home to reduce COVID-19 transmission risk, but popular tourism places like the Robson Valley have continued to see out-of-towners including sledders from Alberta, which has irked some residents.
Two weeks ago, the Village of McBride urged tourists to stay away from the community. Yesterday, the Mayor of Valemount issued an Easter message stating that now is not the time for non-essential travel.
"Many of you may be planning to access our incredible backcountry this Easter weekend," Mayor Owen Torgerson wrote. "It is not the time to do it. This is considered non-essential travel and it goes against everything our Provincial Health Officer has recommended."
He pointed out that Valemount is a rural community without a hospital.
"Understandably, there are impacts to our business community, but there will be even worse impacts if non-essential traffic continues and the spread of this virus throughout the population."
George Heyman, Minister of Environment and Climate Change Strategy, said the government had tried allowing people to get exercise and fresh air in BC's parks.
"But it has proven too challenging to maintain safe distance between visitors. This action is difficult but necessary."
In the Robson Valley area, that means the following Provincial Parks and protected areas will be off-limits, including to locals: Mt. Robson, Jackman Flats, Mt. Terry Fox, Rearguard Falls, Small River Caves, Holliday Creek Arch, Sunbeam Creek Ecological Reserve, Upper Raush, Lower Raush, West Twin, Ptarmigan Creek, Erg Mountain, Slim Creek, Ancient Forest, Sugarbowl-Grizzly Den, Purden Lake.
In the Upper North Thompson, provincial parks and protected areas closures include: North Thompson Oxbows Manteau, North Thompson Oxbows East, Pyramid Creek Falls, Wells Grey, Blue River Black Spruce, Mud Lake Delta, Blue River Spruce, Blue River Pine, Finn Creek, and Wire Cache.
The Province says the decision to close the park system is informed by continued feedback from RCMP, local government, First Nations, local search-and-rescue organizations and the general public. While many people are observing the physical distancing requirements set by the provincial health officer (PHO), some continue to ignore the order, and enforcement in a wilderness setting is challenging.
This decision comes just prior to the long weekend and the beginning of the busy season for outdoor recreation and camping. BC Parks is also extending the ban on all camping in provincial parks until May 31, 2020, in alignment with neighbouring jurisdictions and the temporary closure of Canada's national parks. Refunds for bookings up to May 31 will be sent automatically.
As previously announced, the Recreation Sites and Trails BC (RSTBC) branch of the Ministry of Forests, Lands, Natural Resource Operations and Rural Development has also closed its campgrounds, amenities and many trails in response to the COVID-19 situation, including popular snowmobiling access trails like Clemina, Westridge, Chappell Creek, Keyhole, Renshaw, Lucille, and Bell Mountain.
Overnight facilities like the campgrounds near the Valemount Marina are closed until further notice. Backcountry cabins that fall under rec sites & trails are also closed, including the McKirdy Cabin and Camp Creek. Trails such as Little Lost Lake, Camp Creek, Dunster trail and Groeneveld trails are also closed. See a map of all local Rec site closures here: http://www.sitesandtrailsbc.ca/default.aspx
BC Parks officials say they recognize the value of nature in contributing to public health and wellness and will expand access to the park system as soon as the Public Health Officer indicates it can be done without increasing the risk of COVID-19 transmission.