By Fran Yanor, Local Journalism Initiative Reporter
---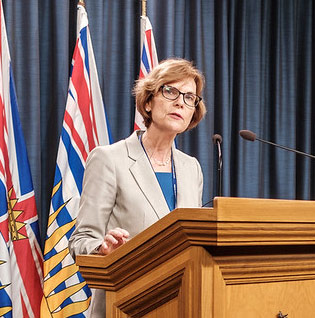 A new match-up service connecting volunteers with seniors who are self-isolating in their homes could help thousands of people, said B.C. Seniors Advocate Isobel Mackenzie on Thursday.
"Connecting the people who want to help with the people who need help, is going to be a key strategy in meeting the needs of seniors in the coming weeks," said Mackenzie.
The provincial health officer declared a public health emergency, ordering businesses and schools closed; told seniors to self-isolate to avoid getting sick; and everyone else, except those performing essential services, to stay home to reduce the spread of the virus that causes COVID-19.
Health Minister Adrian Dix said this week, the strict measures will be in effect for everyone until least May.
"… seniors, need to stay home to be safe and stay safe, and they need support in doing that," said Dix. "We can't let social distancing become isolation."
Seniors, and people with serious pre-existing health problems, are the most vulnerable to developing dire health effects if exposed to the virus.
The $50 million match-up initiative, funded by the B.C. government, will connect people who want to volunteer, with seniors who need help to stay safely in their homes. Part of the $5 billion COVID-19 emergency response plan passed on Monday in the Legislature with all-party support, the program will be administered by 24 United Way-affiliated community organizations across the province.
The volunteering program was conceived in response to an out-pouring of people wanting to help during the COVID-19 emergency, coupled with the necessity for seniors to self-isolate at home. With the hospitals being emptied to prepare for a potential surge in COVID-19 patients, keeping seniors healthy in their communities has never been more important.
Last week, Dix convened a group, guided by Mackenzie and comprised of five MLAs from across party lines: Ronna-Rae Leonard, MLA for Courtenay-Comox; Janet Routledge, MLA for Burnaby North; Shirley Bond, MLA for Prince George-Valemount; John Yap, MLA for Richmond-Steveston; and Sonia Furstenau, MLA for Cowichan Valley. The group was tasked it with harnessing the upswell in volunteerism and directing it to meet the needs of seniors living in the community.
"A very significant number of seniors live at home," said Dix. "And these are challenging times for seniors living at home."
Volunteers and seniors can access the matching service through bc211, a free service that provides information and referrals to the public about thousands of community, government, and social services across the province. The service is funded by several United Ways, the B.C. government and the city of Vancouver.
Any volunteers working with seniors will have to undergo police record checks and meet the same standards as volunteers working with all vulnerable populations, said Mackenzie. They will be counselled on health hygiene. And, instead of interacting in person with seniors, volunteers will drop groceries, supplies, and medications at the door, and conduct visits over the phone.
"These supports will go a long way in helping seniors stay safe at home and to relieve the anxiety and worry that many seniors are feeling," said Mackenzie.
For those seniors who are too proud to ask for help, the Senior's Advocate counsels COVID-19 won't last forever, "so I'm asking just for this little bit of time, please don't be so stubborn. And please let us help."
To volunteer or ask for help, call 211 or visit bc211.ca.