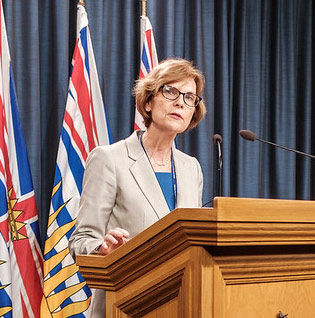 By Andrea Arnold and Laura Keil
BC's provincial Seniors' Advocate Isobel Mackenzie is coming to Valemount Sept. 27th and 28th and area residents will have several chances to meet her.
"Having Isobel Mackenzie come here is a big deal," says Rashmi Narayan, project lead for Valemount Cares housing project and programs. "She is a dynamic individual who travels alone and delivers all kinds of facts on seniors' income, supports and care. She is truly an advocate. I think it's important for seniors and families to attend and share their experiences first-hand."
The BC Office of the Seniors Advocate says Mackenzie has more than 20 years' experience working with seniors in home care, licensed care, community services and volunteer services, and also led B.C.'s largest not-for-profit agency. She led the implementation of a new model of dementia care that has become a national best practice, and led the first safety accreditation for homecare workers, among other accomplishments. The Advocate's Office advocates for seniors to policy makers and publishes reports each year.
Mackenzie will be presenting as the Keynote Speaker at the Valemount Seniors Fair Sept 27th, addressing seniors' income, supports and care, and has been invited to the Valemount Cares Open House that evening. She will also meet with Village Council members. On the 28th, Mackenzie is slated to attend a lunch meeting at the Golden Years Lodge with those unable to attend the previous day.
The Valemount Cares Open House will feature the latest drawings and have the construction team on site to meet with local contractors, as tenders will go out in January. Narayan says it is a chance for those who have contributed to see what progress has been made.
"During these events we will be showing plans for the new seniors housing project and asking for input from seniors in regards to the colour scheme for the new residence," she says.
She says they want to let people know what resources are available in the community and answer questions from seniors about what services will be available in the new facility.
Also next week will be sessions on how to access your Public Health Records online (see times below).
These events were made possible thanks to an Age Friendly Grant through BC Healthy Communities.
EVENTS
• Jess Rothenburger from Rural Coordination Centre of BC will demonstrate how to access your public health records with an email address. Introduction to MyHealthKey (Hosted by Elder Collaborative). Sessions are at the Golden Years Lodge Mon. Sept. 26th 1:00pm – 4:00pm; Sept 26th and 27th at the Valemount Library (basement room) from 1-4pm both days; And Sept 27th at the Community Hall 11-4.
• Valemount Cares Open House on Tues. Sept. 27 at the Community Hall, 6:30-8:30pm, with the latest set of drawings. Open to members of the public. The construction team will be there to connect to local contractors as tenders will be out in January.
• Tues Sept 27th Seniors Fair at the Community Hall from 10:30am-4:00pm, organized by Elder Collaborative. Seniors Advocate Isobel Mackenzie will be keynote speaker. There will also be a panel discussion on aging that would include her, Dr. Markham and a few others. There will be scheduled talks, presentations throughout and free lunch (Hosted by Elder Collaborative).
• Sept 28th, Mackenzie will join a second Valemount Cares Open House and lunch at the Golden Years Lodge from 11:00am-1:30pm with seniors and any other individuals who were unable to attend the previous day.