By Fran Yanor
Local Journalism Initiative Reporter
---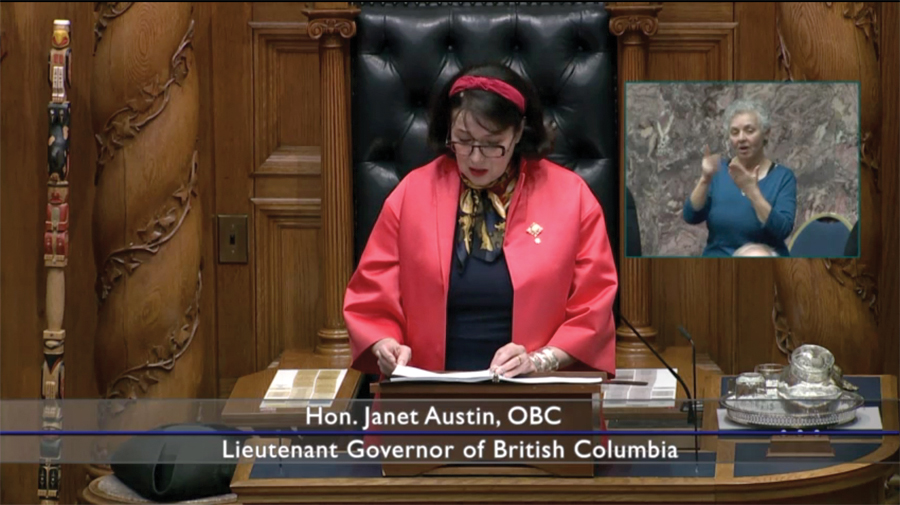 Prince George-Valemount MLA Shirley Bond was right about one thing on the day of the throne speech. "Fair to say the headlines today won't be about the throne speech for the most part," said Bond. It was true. Lieutenant-governor Janet Austin's recitation of the 2020 throne speech didn't get much media play the next day or ever, given the backdrop to the event was a rhythmic drum beat and rounds of admonishing chants from Wet'suwet'en pipeline protesters and others, gathered outside the legislature.
Some might argue it's not a huge loss given throne speeches are, by their content, or lack thereof, not taken as seriously as the BC budget (scheduled for release this week after presstime). But the throne speech does lay out the priorities of this week's budget. Here are a few highlights:
A child care benefit will begin in October, and more daycare spaces will be created for school-aged children.
Daycare workers will get a $1 raise in April, and the minimum wage will increase to $14.60 this year, followed by a second hike to $15.20 the year after.
People with disabilities, and those on income assistance, will both get a break with higher earning exemptions. Workers fleeing domestic violence will have paid leave up to five days, along with the 10 days of unpaid job protection previously legislated to them last year.
There will be a new supplement for children-in-care, expanded programs in children's mental health, additional funding for employment programs, and some kind of help in the Budget for people starting post-secondary, skills training and certificate programs. There will be new training for health care assistants and specialty nurses.
Drivers' rates were promised to decrease an average of 20 per cent on renewal next year, and 114,000 new homes will be built over the next decade. First Nations and rural communities will get some kind of boost for policing.
High speed internet will continue to expand in rural communities, and the government will go to Ottawa to fight for cheaper cell phone plans and transparency in billing.
No measures to improve air quality for Robson Valley citizens. Nor any reference to adjusting the two-tiered pricing with BC Hydro to clear the air and fill the wallets of local citizens.
"This is a government that said it was going to look at two tiered pricing," says Bond, who added it was an issue of concern for many rural MLAs. "I will certainly have the opportunity in the weeks ahead, in the estimating process and elsewhere, to follow up with some of those specific questions."
CleanBC was hailed as the underpinning of "a new course to a low-carbon economy," and BC Hydro and LNG-Canada are cited for their role in the government's commitment to reduce carbon emissions. No mention of developing the geothermal sector or air quality improvement measures for places like Valemount, whose pollution particulate levels are often among the highest in the province.
"I've been a strong advocate for the (Canoe Hot Springs) geothermal project in Valemount," said Bond, who has worked with former Green Party Leader Andrew Weaver on the matter. "(We've) pressed the ministry and the government to consider it as a fantastic option as part of their energy portfolio… that it would be a template that could be repeated."
Depending on the government's definition of "hard-hit" communities, the throne speech may be held some hope for the forest sector via job placements, skills training and community grants. As well, some solutions applied elsewhere may have local application, such as a "revitalization strategy" on the coast that will make better use of waste wood, and initiatives in the Interior that bring together forestry stakeholders to help the industry compete and "maximize available resources." It's unclear at this point if the Ministry will consider applying the same initiative to work with the Robson Valley forestry industry.
Bond was not optimistic. "The forestry sector needs a stumpage model adjustment, which we called for more than a year ago, and we've continued to see no action on that," she said. "We're the first to admit, we took a lot of steps to work with the forest sector in British Columbia. Could we have done more? Of course."
But during the past two and-a-half years, particularly the past year, thousands of people have lost their jobs, she said. "The government barely got involved, for months."
From Bond's perspective, the throne speech was a look back, when it should have been casting ahead. She'll be looking to the Budget for answers. She and her Opposition colleagues will scrutinize it for a revenue generation strategy other than raising taxes, and a well-articulated growth strategy that attracts investment to the province. "What kind of fiscal prudence has been built in? What are the spending plans, what are the taxation plans, and is there any kind of economic growth strategy attached to it?" said Bond. "I think this is the kind of throne speech that signals that there is probably very little to spend."
Back in the House, Lieutenant-governor Janet Austin got to the part in the throne speech about the MLAs unanimous legislative endorsement of the Declaration on the Rights of Indigenous Peoples Act last year, recalling it as "a proud moment in this province's history" while, simultaneously, Indigenous and other protesters outside rallied against the "colonial' governments of Canada.
"But the work has only begun," Austin continued. "The next step is an action plan."