Slash piles remain urgent issue
By Andru McCracken
---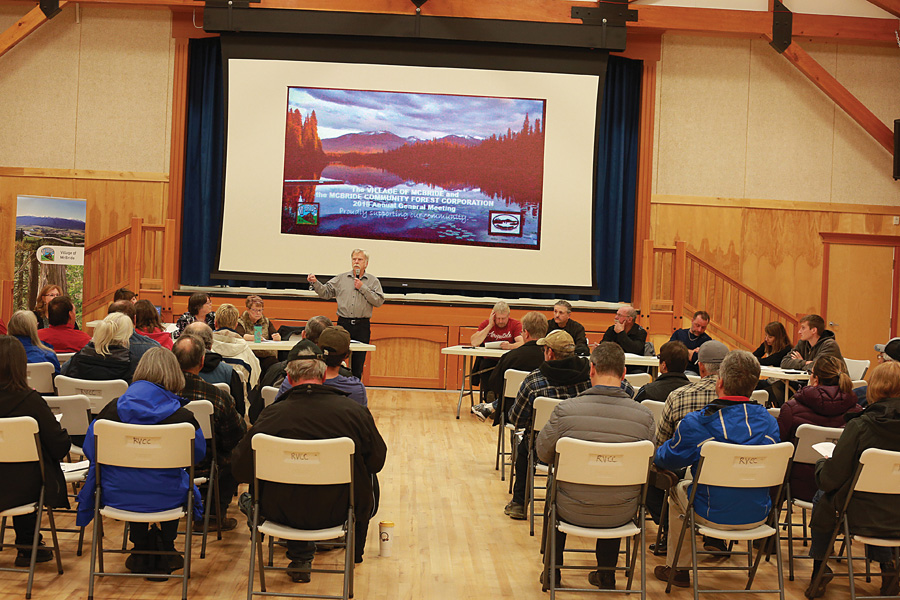 McBride Community Forest Corporation had good news to share after the previous two years of losses according to Chair Joseph Rich and interim general manager Shaughnessy Clausen.
In 2018, the MCFC made a profit of $264,388 after losses of $359,000 in 2016 and $88,453 in 2017.
Rich forecast smaller profits for 2019 as it draws to a close.
One indicator of the health of the community forest is their allowable cut. Over five years MCFC is allowed to cut 250,000 m3, but they began their last five year cut control period with a 90,000 m3 overcut. That meant trying to pay the bills and keep local running mills with just 160,000 m3 to log over five years.
At the end of their cut control period they had a little under 10 per cent or 23,395 m3 overcut, putting them in a much better position for the next 5 year period. It also means they won't pay fines.
In 2018 MCFC paid no dividends to the village but they did provide $25,000 to an array of local initiatives, societies, school and recreational groups.
The interim general manager provided a comprehensive report about MCFC operations.
"We're looking into the future which is bright, that's what we're here to focus on," said Clausen.
In 2018, 240,000 trees were planted by Rock Reforestation out of Dunster. That includes 177,000 spruce seedlings, 30,000 of fir, and 96,400 cedar seedlings.
Clausen said it wasn't easy planting conditions.
"His crew worked tirelessly through the spring and summer to make sure those trees got in through hell or highwater; this year it was a lot of high water," he said.
MCFC has been employing eight people as part of a brushing crew since May. They tend to replanted stands ensuring they aren't overcome by weeds. Clausen said that they covered 250 hectares and left a mix stand including poplar trees, which help mitigate fire risk. During the question period a resident asked how MCFC paid for that work, Chair Joseph Rich replied that the money was set aside at the time of logging as required by law.
One of the outstanding liabilities the community forest has to consider is the great number of slashpiles.
"They need to be dealt with," said Clausen, "They are a huge fire hazard."
While a proposed pellet plant (Boreal BioEnergy) has said that they want that material, Clausen said they may need to burn the piles.
Clausen said the community forest had no injuries in 2018 or 2019 to date.
"We can only have a bright future if we work together," he said.