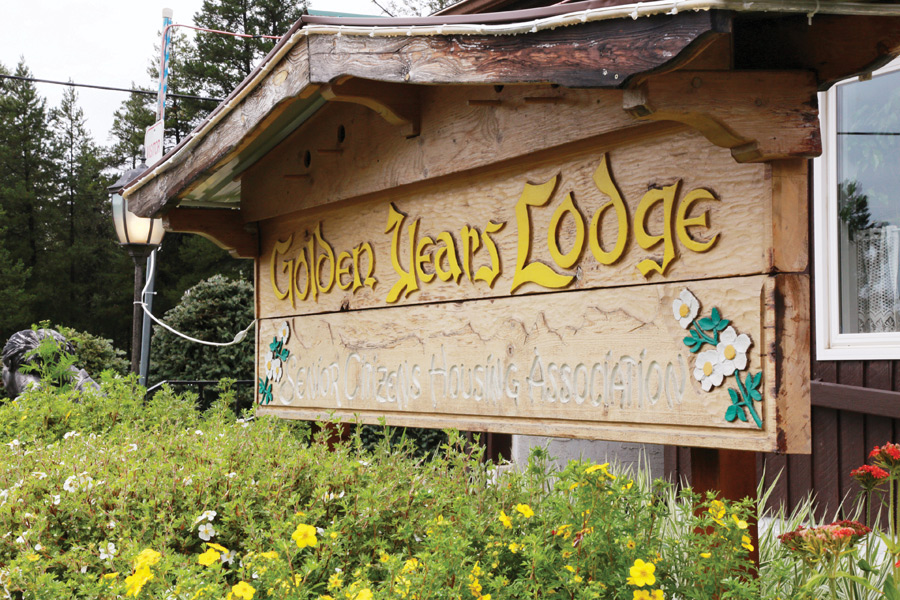 By Laura Keil
---
A senior citizen fell to the ground last week when a set of outdoor stairs collapsed beneath her at the Golden Years Lodge.
The resident had bruises on her arm and numbness in her fingers the following day. She was on her way to a doctor's appointment when she fell around 9:30am Aug 7th.
"I stepped on the top one and I went down. And all of them fell with me," said Bella (Bella is not her real name, but she didn't want to be identified for this story).
Another resident was behind her when it happened.
"It scared me because every step vanished and she was right at the bottom. It just scared the living daylights out of me."
The staircase platform is roughly three feet off the ground.
Another resident witnessed the collapse from his deck where he was having his morning coffee.
"I saw her fall from that top step. She took a good fall. It could've been a lot worse. It could have been a broken arm, a broken leg."
During interviews with residents, the Goat learned a similar collapse occurred on lodge steps last year (no one was injured); and another resident has been complaining about her shaky steps for months, or even a year.
Staff and residents estimate the steps and decks on the one side of the building are 30-40 years old. Many have been reinforced with metal brackets over the years.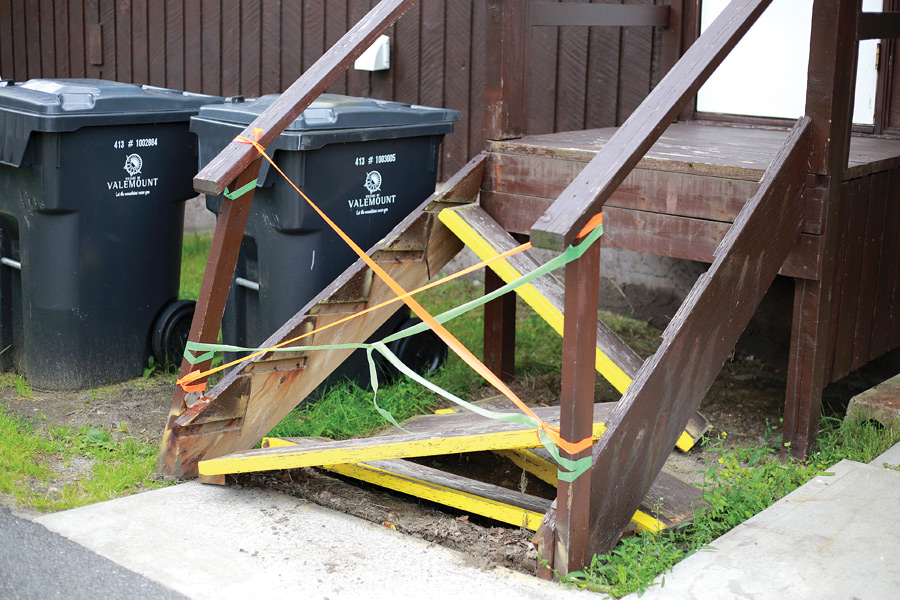 The eight seniors the Goat spoke to for this story wished to remain anonymous. Six said they feared trouble or retribution from administration, or in general, if they spoke out publicly.
The Golden Years Lodge has 15 units (some currently vacant) and is managed by a non-profit volunteer board. A part-time administrator and caretaker oversee day-to-day operations at the lodge as well as at 10 seniors units on 3rd Ave & Cedar St.
What happened?
The staircase that fell apart last week is a designated fire exit and also used by residents to take out their garbage. The aftermath revealed rotten sections and rusty nails. But the reason every slat fell out was a problem no one predicted: the whole railing moved out of position, pulling away from the boards so they were no longer held in place (there were no supports underneath). A local building contractor saw the damage and told the Goat the stairs were not built to current code.
"They are not built to code, for one, and they are not strong enough for their purpose, and they are rotten."
He said the ends of the treads were rotten and the only thing holding them together were a couple of undersize screws in the stringers into the end of the treads. "There was no structural components in between the risers as there should have been."
He also took a look at another set of steps that had been repaired with an angle bracket that he said was "nowhere near enough to keep it going."
"It should have been replaced a while ago."
Dee McEachern, President of the Valemount Senior Citizens Housing Society, said the railing post wasn't in cement at the bottom, it was just in the ground, and had rotted out due to the recent wet weather, but the stair boards were not rotten.
"I've been part of this board for nine years and this is the first incident of such a nature, you know, so it's kind of flukey."
Management knew the stairs needed repair and two days before the collapse staff had put a sign on the door saying not to use that entrance. But the sign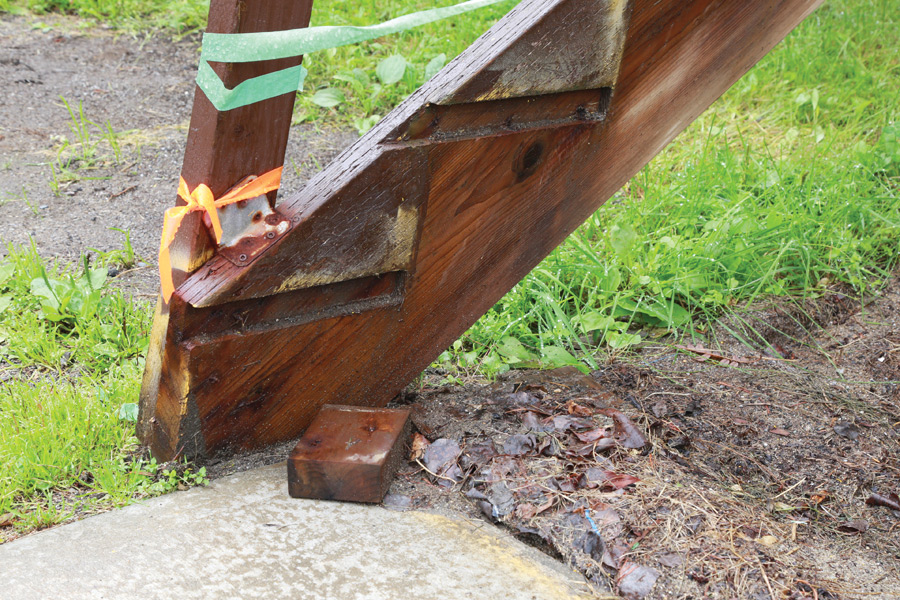 was small and written in blue pen and the hallway was dark. The seniors who used the door didn't see it.
Lessons learned
Neither the Administrator nor the President felt there was a way to prevent the accident on the stairs.
"It was an accident," the administrator, Marion Farquharson, said. "I'm very relieved she didn't hurt herself and I'm very relieved the incident is being taken care of and was being taken care of before it happened."
"Everything was done that could have been done at the time other than we probably needed to have had the door taped over," McEachern said. "Except that they thought it was just the handrail that was the problem, not the whole step."
McEachern and Farquharson said all the steps on that side of the building, including the residents' deck steps which double as emergency exits, will now be replaced and made more accessible.
The reason for the sign on the door was that a few days before the collapse, staff had checked all the stairs because of a resident's complaint about her deck stairs. The boards were pulling away from the sides (see photos). Her steps were not ribboned off by staff, but by another resident who recorded in the maintenance request book that many stairs and decks were "in urgent need of repair" and "some are extremely hazardous."
Residents said the woman, Sharon (not her real name), had been complaining for many months but continued to use the steps in the meantime.
A resident, Bill (not his real name), said Sharon's steps and railing look exactly like his did before his fell apart last summer.
"They're the same as mine were a year ago. If she grabs that she's going to get hurt."
Not the first stair collapse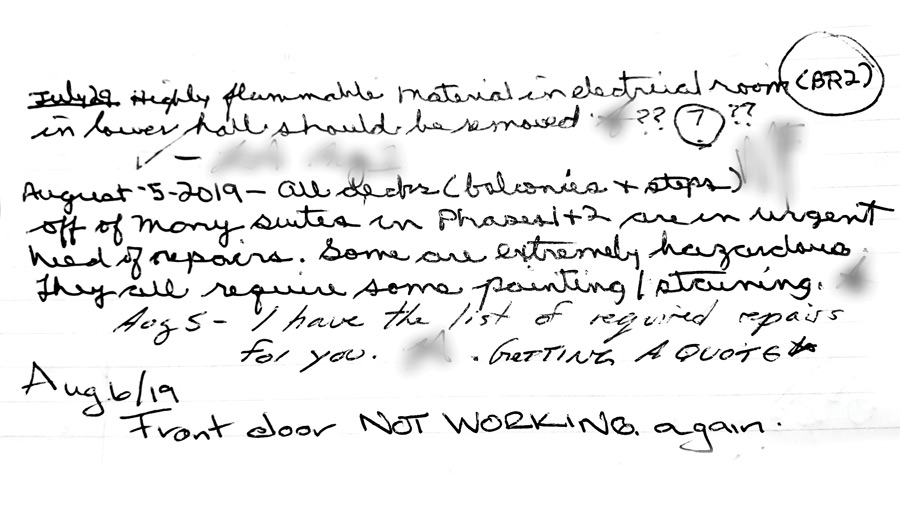 Bill says his deck steps collapsed last summer. He had told the caretaker the steps and railing were shaky. The caretaker at the time, who no longer works for the Housing Society, tested a slat belonging to Bill's deck stairs and all the boards fell down, just as they did with Bella (Bill witnessed Bella's fall so was able to compare the two incidents). The caretaker and another resident put Bill's deck steps back together and fortified them using brackets. They didn't notify administration though the brackets are visible on the steps.
BC Housing hired an outside consultant last August for a routine building condition assessment which happens every five years. The consultant did not report any defects in the stairs, according to BC Housing.
Farquharson said maintenance checks are ongoing. There are also Fire Inspections once a year. According to management, no one raised those particular stairs as a safety problem until the weekend before the collapse.
But residents say the administrator was given plenty of time to inspect Sharon's steps which may have led staff to inspect all the others and realize there was a problem.
"With your foot, you can lift the middle step," said one woman in her 80s about Sharon's steps. "I did it the other day. And I said to (her) don't you dare walk down there."
She says the issue of rotten steps goes back 4-5 years.
Four residents weighed in on the complaint process for Sharon's steps:
"I know she complained about her steps for a long time."
"And it was written up in the book."
"And it was verbally brought to her (the administrator's) attention."
One woman said none of the back steps have been replaced in the 19 years she has lived in the building.
"They're rotten," she said, and another nodded. "They all need looking at."
Finances
McEachern said they are doing their best to create a decent place to live, but they have a tight budget. Now that the stairs collapsed they plan to replace all the stairs, something they didn't budget for this year.
"We're always tight."
When pressed on the issue, McEachern said they do have money to fix all the steps out back.
The Society's 2018 year-end financials show that, as of Dec 31st 2018, they had approx. $40,000 in the bank and $90,000 in their Replacement Reserve account. Many of the repairs or renovations done last year came from grant money.
What kind of standard?
A federal report says falls are the direct cause of 95% of all hip fractures, leading to death in 20% of cases. The report notes that falls appear to be a catalyst for seniors moving to long-term care.
When asked if they felt safe in their building, Bella and other Golden Years residents the Goat spoke to said they did as the steps would now be replaced.
But they felt that it should have been done sooner.
"Nobody does nothing 'til something happens – like somebody getting hurt or something else," said one resident.
Marian Plummer, a local resident who often volunteers with seniors, said the standard of safety and care at a seniors' residence should be high.
"It was shocking that the stairs would have demolished underneath a senior at a seniors' residence," she said. "Rotten steps don't just happen overnight, so someone must have known about them."
"I think in a seniors place, or in any place, there's got to be a standard."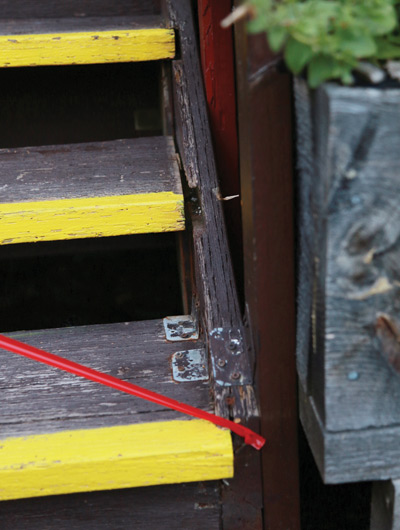 She says the seniors are sometimes hesitant to complain.
"The seniors don't want to take a stand because they're living there."
The Village's Fire/Safety Inspector Dean Schneider, who happens to also be the building inspector, says he is available anytime if tenants feel there is a safety issue. His number is 250-566-1551.
Other maintenance problems at the lodge include a broken emergency phone in the elevator, the automatic doors often not working, and problems with regular maintenance like icy walkways and clogged gutters. In February 2018 a senior fell and was injured due to a slippery ramp exiting the building. Residents pointed to leaking eavestroughs as a contributor to their rotting decks and steps.
The pace of repair and renovation is slow. One resident said she's been waiting nine years for the society to install new flooring in her unit, flooring that was given to her and is ready to install.
The administrator and board president said there is no long-term replacement plan for parts of the building that are aging, though they keep a list of repair projects to tackle. McEachern said they try to be proactive but their approach is to ask what needs fixing immediately.
"We look at what needs to be done right now. And then we look ahead to see what else needs to be done right now."
Staff issues
Residents told the Goat that a previous caretaker who was employed for more than a year and left in May 2019 was not equipped for the job.
"We were told when he came, tell him what you want to do, teach him how to do it and gradually he'll learn," said one resident.
"When you hire a caretaker, you're hiring somebody who is a caretaker. You're not hiring someone so the tenants can teach him to be a caretaker," she said.
When asked who should take responsibility for the safety of residents, McEachern said it is ultimately the board of directors.
"The bottom line is the board has to take responsibility for it."
Several residents said they were under the impression that they can't attend board meetings throughout the year unless they request in advance and get an item on the agenda.
One resident said the board isn't in touch with the daily life of residents.
"Our lives depend on what they do. Our comfort and everything in here is dependent on what that board okays and doesn't okay, and as I say, they do a yearly inspection. It's not like they (the board) come around every two months and say, 'Are there any big issues?'"
Residents say they are happy with the new caretakers who just started this summer and when they need something cleaned or repaired they take care of it quickly.
Residents are also pleased the stairs are finally getting attention.