by Andru McCracken
---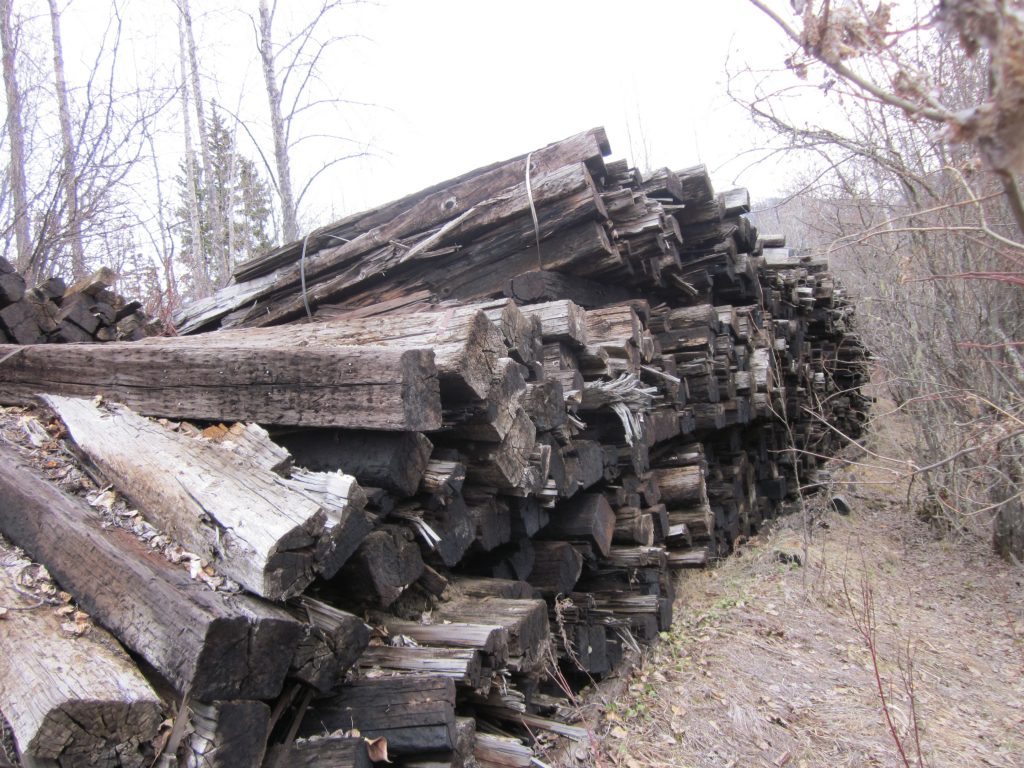 A Tete Jaune resident is concerned an old cache of railroad ties could be leaching creosote into surrounding marsh not far from the Fraser River. Visible in satellite imagery, the stockpile is about 30m long, or 100 feet, 2 ties wide and up to 10 feet high. The pile is lying about 200m from the Fraser River.
According to Environment Canada, creosote is commonly used to preserve wood, including rail ties, and has been used since the 1700s.  It is one of the most effective industrial preservatives for protecting wood from deterioration and decay caused by fungi, insects and marine organisms. Needless to say it's bad for aquatic species and humans.
Garry Wallace a local property owner was surprised and upset to find the ties a few kilometers from his home.
"They look like they have been there a long time," said Wallace.
He hopes the owner would be held responsible for cleaning up and is concerned the ties are leaching into the surrounding environment, and possibly making their way to the Fraser.
"I retired out here and I find this is a beautiful valley, I see people who are tree huggers and naturalists and I see others that dump everything in the valley," he said.
When the Goat called the Ministry of Environment to see if they knew about it, the ties had not been called in to the RAPP line (1-877-952-7277).
RAPP is an acronym for Report All Polluters and Poachers.
The RAPP program is a toll free tip line and online service that also allows people to report known or suspected violations of fisheries, wildlife, or environmental protection laws anonymously and without risk of confronting the offender.
Environmental violations to report include illegal waste disposal (household or business waste, e.g. dumped on Crown Land), unlawful open burning (e.g. dense smoke) (excludes backyard burning), the discharge of chemicals or sewage to lakes or rivers, damage to fish or wildlife habitat, exceeding the daily bag or catch limit, use of illegal hunting or fishing gear, fishing or hunting out of season or in closed areas, unauthorized collection or sale of fish and wildlife or their parts.
Suzannah Kelly, senior public affairs officer for the Ministry of Environment and Climate Change Strategy, said that BC environmental regulations say that storage of rail ties may not cause pollution. If you see ties that may be causing pollution she asks that you call it in to the RAPP line.
The ties are thought to be on CN property. The Goat contacted CN and the company did follow up for a request of the exact location but did not respond by press time.