By Andru McCracken
---
The June 23rd flooding of the Dore River wasn't as dramatic as the Willox Creek Debris Flood, but it's still changed lives.
Regional District Director Dannielle Alan said although it's happening in slow motion it is having big impacts for people.
"It's heartbreaking. It doesn't seem like as much of an emergency, but it is," she said.
Robert O'Lennick, who lives on the banks of the Dore River, said he first heard of the flooding when he and his wife were away.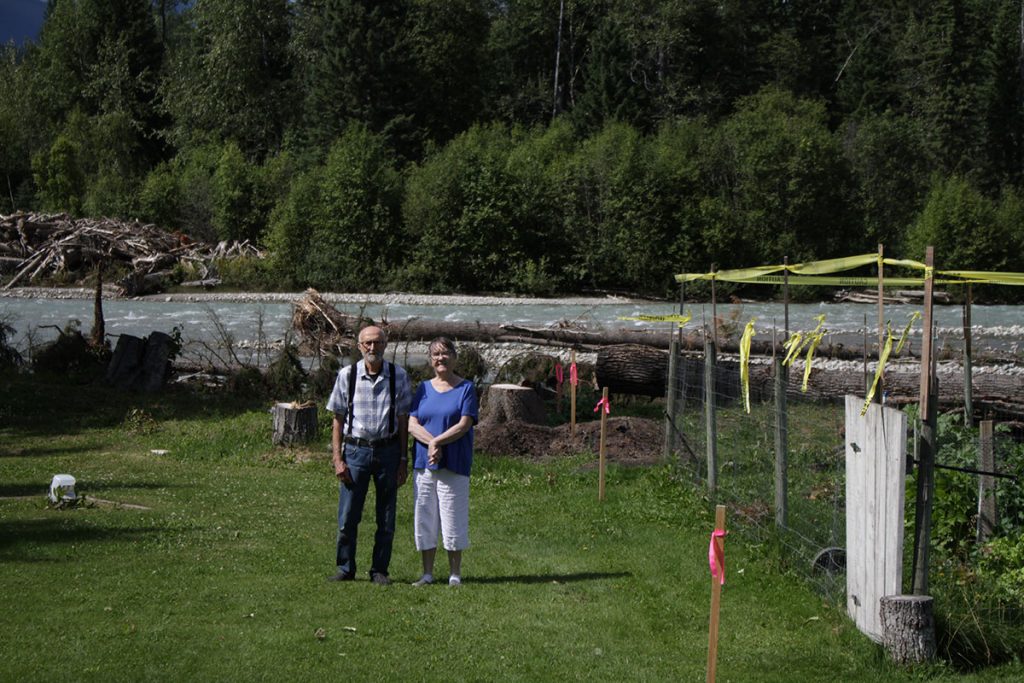 "We were gone and one morning I was listening to the news and I heard about this problem in McBride on the Dore River," he said.
"I told my wife, you'd better pack up. We're going home."
When he returned, neighbours filled him in on the night before.
They reported a wild night with the river claiming tree after tree from their yard.
O'Lennick said the river has claimed 100 feet of his backyard.
The couple's garden is now just 15 feet from the river's edge.
"It's so wide, in my backyard it's running in four different channels," he said.
He hopes authorities will put the river back into the main channel.
Authorities have been on the scene three different times with drones mapping out the river, but while some remedial action has been taken, O'Lennick said there is more to do.
"There is a big pile of logs that has to be moved," he said. "Whether they burn it or haul it away, that was what caused the whole problem."
Alan said that the Water Stewardship Branch of the Ministry of Forests Lands Natural Resource Operations has been fantastic.
"They are working on a whole river approach so we're not just moving the problem somewhere else and providing tools for people to protect what they have left," she said.
Alan said the O'Lennicks aren't the only ones facing trouble: folks have lost wells, there are community water systems in jeopardy and a septic system that could be compromised.
In the Legislature, MLA Shirley Bond asked BC Solicitor General Adam Farnsworth to find funding to conduct an assessment of current and future needs in the area, after thanking government agencies for help rendered so far.
Farnsworth, who had seen images of the devastation forwarded by Bond, was sympathetic.
"I can only imagine how traumatic it must have been for the families involved. I can tell the member I am prepared to look at that request. I'm happy to work to see what we can do," he said.
Hilary Erasmus, Public Information Officer for the Regional District of Fraser Fort George said that there is work going on behind the scenes, including aerial assessments.
"Once there is something further behind the scenes we'll be able to share that," she said.