by Andrea Arnold
---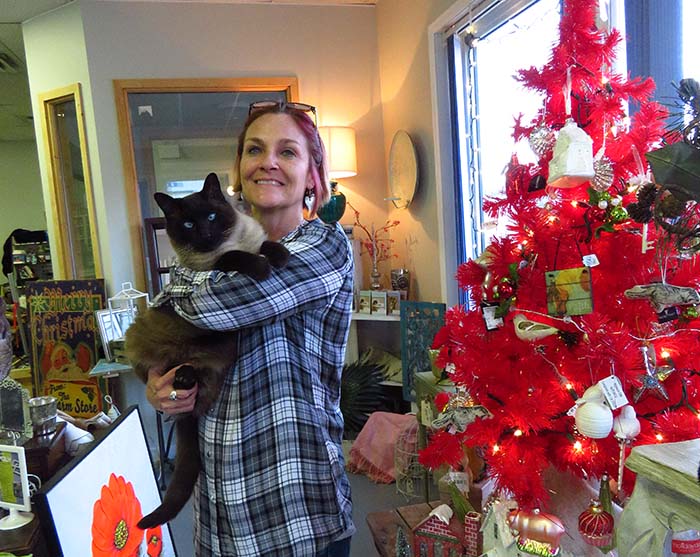 Calvin the Farm Store cat has a new home and is getting settled in surrounded by all his familiar items.  The Farm Store has moved into the big white building (Formerly NAPA and Jenny's Shop & Wash), on the corner of Main Street and Hwy 16.
After 12 years of having an office space upstairs and the store downstairs, owner Sarah Gibson is excited to not have stairs to manoeuver.  She is also looking forward to the benefits that come from having a more visible and accessible location.
The new location will maintain the same services as before: the old wash bay will now house the large quantity of feed, and there will no longer be a dirt floor. Inside the store will continue to sell pet supplies and an assortment of housewares and gifts.  Also present in the big bright space is the ice cream bar.  They plan to continue to provide this tasty service to the community.
The new location has also presented several opportunities for Gibson to expand.
"We hope to reopen the laundromat once we check the plumbing and see what we are working with," she said.
She says they also plan to restore the shower stalls. Also, there are two office spaces and Gibson will be using one area as her office as she continues her mapping work.  The plan for the other space is not set in stone, but plans are in the works to turn it in to an accessible office space for Gibson's father, Gene Runtz.
Gibson is keeping business hours the same. Tuesday-Friday 10-5 and Saturday 10-3.  If business picks up due to the improved accessibility, then the hours may change.
They are still getting settled, but the doors will open next week and Calvin would love to show you around his new establishment.