by Andrea Arnold
---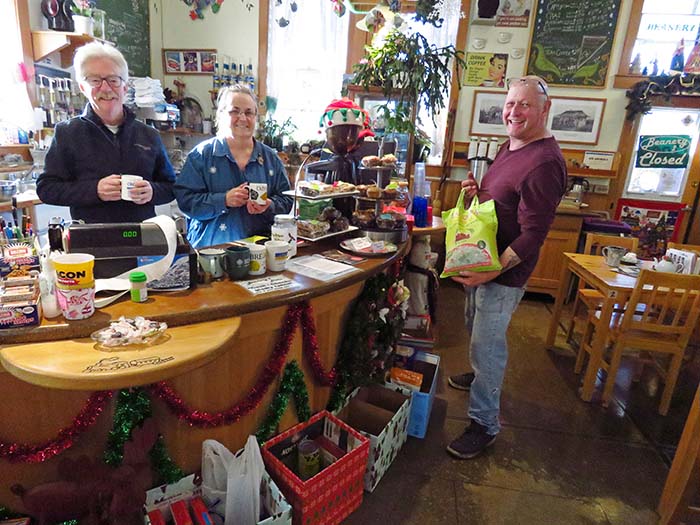 Donna Perkins remembers her first Christmas as a single mom.  She arrived home from work on Christmas Eve to find a hamper full of everything she'd need for Christmas dinner from the Royal Purple.
Perkins runs the Beanery 2 restaurant in McBride and for the last seven years she has participated in the annual CBC Open House and Food Bank Day by collecting donations of cash and dry goods.
"I see this as a way to give back," said Perkins.
On December 7, 2018 Perkins along with Rick Thompson helped fill the local food bank. Rick Thompson donated CBC mugs he had won by winning trivia contests over the years. Individuals contributing dry goods were gifted with a free coffee, and what people chose to pay was also donated.
"All contributions will be donated directly to the Food Bank here in McBride and it will stay in the community," said Beanery 2 owner Donna Perkins. The Food Bank is run by the Seventh-Day Adventist church and is not listed on the big list of CBC sponsored Food Banks, but Perkins and Thompson said it is important to increase community awareness and support of the program.
Perkins says she appreciates the chance to be a donation location. Last year the Beanery location raised $800 and 7-8 boxes of dry goods. They hope to top that this year, aiming for $1,000.
The Beanery 2 will continue to accept donations, cash and dry goods, until Christmas Eve.