By Andru McCracken
---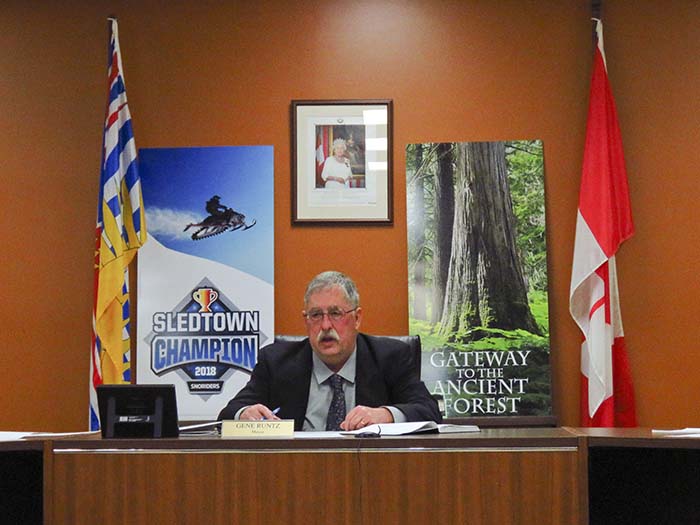 McBride's newly elected mayor Eugene Runtz is upset about council's choice the Regional District representative, saying there was no discussion on the matter at the council meeting.
Counc. Al Frederick was appointed by Council in a vote to represent McBride on the Regional District of Fraser Fort George.
Mayor Runtz said he will ask Council to revisit the decision.
Runtz said services administered by the Regional District of Fraser Fort George connect to affordability in McBride; he wants to work with the Regional District to reduce the tax burden on the community.
"There is a decrease in population, a decrease use of the rec centre and the community hall," he said. He said high taxes are hurting the community.
"A lot of these issues go back to the Regional District. I am going to ask that it be revisited," said Runtz.
Frederick was surprised to learn of Runtz's displeasure with the decision later that week.
"He congratulated me as the Regional District appointee," he said.
Frederick said he doesn't have an agenda.
"I'm trying to get some information about what's been done in the past," he said. "I'd like to see some better cell service in our area, especially between here and Prince George and here in Valemount."
Frederick said he has the time to take on the post because he isn't working.
"Personally, I think he has the big learning curve ahead of him," said Frederick of Runtz.
"At the regional district a lot of times they'll meet on Wednesday and Thursday, [that's a lot of time] away from constituents and the area."
Frederick said he was an alternate for the Regional District when he was a councillor in the past.
"I didn't attend too many meetings; at that time the mayor did attend the meetings," he said.
Frederick said that the appointment was made in good faith.
"There were no discussions prior to the meeting," said Frederick.
Councillor Rosemary Hruby said the reasons behind the decision were simple.
"It's pretty innocuous," she said. "Frederick has some council experience and Eugene has a big plate full."
"I think Gene will do a great job being mayor. He has a lot work ahead of him and he has lots of plans too."
The Background
A councillor has held the primary regional district appointment since 2016 when the Council at that time rescinded former mayor Loranne Martin's appointment, replacing her with alternate director Sharon Reichert. When Counc. Reichert resigned, the primary position went to alternate director Rick Thompson.
The alternate director attends meetings when the primary directory cannot attend and are paid a meeting fee of approx. $200 plus expenses to attend meetings in Prince George. Primary directors representing a municipality are paid an annual indemnity of roughly $12,000 plus expenses. There is generally one regular board meeting per month. Committee meetings vary.