by Andru McCracken
---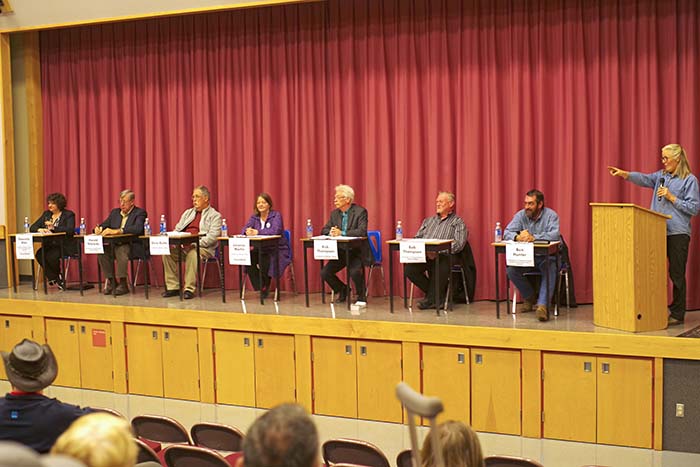 The public didn't pull punches when it came to cross-examining the work of public officials and their plans for the future of the area during the McBride and Area Chamber of Commerce's all candidates forum on Thursday October 4th. Monica Zieper was the moderator. The all candidates forum featured candidates for mayor, regional district and school board trustee. McBride councillors were not a part of the evening because there were only four candidates and they have already been acclaimed (Those candidates are Allan Frederick, Lucille Green, Rosemary Hruby, and Diane Smith). The candidates began with a three minute introduction.
Incumbent mayor Loranne Martin delivered her introduction first. She thanked residents for gathering.
"I didn't prepare an opening speech because, no offense, I'm really tired of doing elections," she said with a laugh.
She offered a reflection of how hard it has been and how hard council has been working to set the community on a different path.
"I'm very proud of some of our accomplishments. The one thing I said I wanted to do last election was to put the library museum in the hands of the people and have you guys tell us what you wanted," she said.
"The accolades that we got for our museum, you can't believe it."
She said she's proud of the work the community has done on tourism.
"We have the ability to make it go in spades," she said, referencing horse and bike trails.
She said she is proud of getting the community forest back on track.
"It was grossly overcut, the forest stewardship plan had expired, waste assessments and constant complaints," she said. "Those were difficult to address."
She said that now board members have the experience and knowledge to run it.
Rick Thompson (running for Mayor) began his introduction by thanking the Chamber of Commerce for hosting the event.
"I have been a part of many of these having been on council for the last five terms," said Thompson.
Thompson said he'd work towards infrastructure improvements, housing investments, tourism and recreation growth that make McBride a great place to live.
"Thank you to the other candidates that have put their names forward," he said.
Thompson said he was a resident since 1998, and a former principal.
"I have demonstrated effective leadership for our community. I have been honoured to serve the council since 2002," he said. "I have been active in community organizations."
Thompson said he operates innovative businesses.
"We've been making progress on infrastructure improvements and recreational trail investment," he said.
He said the projects are good because they improve life for residents, and attract new residents.
He voiced his support for affordable supportive housing, attracting small business, and economic diversification. He said he was ready to work with all residents.
"As your next mayor, I will ensure a smooth transition so that your elected officials and staff can hit the ground running and will ensure that you get four years of good government in McBride," he said.
Eugene Runtz is the third candidate running for the position of mayor. Runtz said he currently works as the general manager of the McBride Community Forest.
"My family moved here in 1985 and I was working as a contractor in the forestry field," he said. "I've been in the Elks for 30 years. If you look at the way the Elks and Royal purple thrive here, that has everything to do with the teamwork that takes place."
He spoke about his education as a forester and read out a number of slogans.
"Together we can build a brighter future. Economic growth takes real leadership. Real change starts with new leadership. Building a brighter future together. McBride, growing our community together. Yes we can change our future together. The future is now. McBride, Open for business."
Incumbent Dannielle Alan is running for the position of Regional District Director of Area H.
"I manage the McBride Visitor Centre and the Whistlestop," she said. "I have two grown children and a small hobby farm between McBride and Valemount."
"Over the last four years we have gotten a lot done. We have brought local representation to the School District 57 board. We have advocated for local decision making around backcountry access."
Dannielle said she has supported clean energy, affordable housing, children and seniors and announced that next year Area H will have a community foundations grant that local people can apply for.
"Through sound policy around land use and an open for business attitude we are attracting new people with new ideas into our communities," she said. "We have worked well with other elected officials and it has been a privilege to work with community groups."
"Local government does not build community, people do. We still have a lot of work to do," she said.
Alan said that it is important to get ministers and deputy ministers and other decision makers out from behind their desks into the area.
"We need to give our children the tools and the education to leave, learn new things and then the economic opportunities to come back with new skills and new ideas," she said. "We need to support seniors so they can be active participants and stay in our communities with vibrant, diverse, healthy lifestyles."
Alan said the valley has the tools to make it happen.
"They told me this job could be as small or as big as I wanted it to be. I took that as a challenge and I'm still up for the challenge."
Benjamin Hunter is a candidate for the position of Regional District Director of Area H.
"Most of you have known me for quite a while, some since I was a kid," he said. "My family moved here about 35 or 37 years ago. We called it home."
He said he went away for work and school but couldn't resist coming back.
"I gained a pretty decent wallet of skills over the last 25 years or so," he said.
"The undercurrent I am getting from our area right from Dome Creek down to Albreda is that we're losing people at an astonishing rate. We've seen the schools drop 10 students per this year. We have a solution for that. Put more people to work here at full time jobs so families don't have to be split, while one of the parents are away… just to pay the mortgage.  We stop shooting ourselves in the foot when opportunities come up to provide those jobs."
Hunter said he'll work with everybody.
"What will make this place a little more friendly for business," he said.
School Trustees
Harold Edwards is running for the new position of Robson Valley representative to the School District No. 57.
"I think most of you know me," said Edwards. "I was a logger for 18 years, a high school teacher for 18 years, and I was part of a company that developed a run of the river hydro project."
He said the job of trustee is to reflect the local needs of the schools.
"We have had enrolment problems," he said. "We need a new funding formula. It has to be based on providing money for the facility, and then you look at what money could be allocated on a student basis. It's inherently unfair for bigger municipalities to have their building costs spread over a larger number of people."
Edwards said that the schools' have an important job to do.
"We need to find ways to enable students to reach their potential," he said.
Bob Thompson is also running for the position on the school board.
"I've lived in the Robson Valley for about 30 years now," he said, mentioning that it was his wedding anniversary to applause.
He said when he first came to visit his wife here he noticed something that Los Angeles doesn't have.
Thompson, who recently retired, said he saw the position come up and decided to apply.
"I thought it was time to give something back. I have no experience on the school board, but I have integrity, I am honest and I really believe in service. I need to represent every student every parent, and all community members."
"Because we are small rural areas, if there are cuts that need to be made they can happen over here because there are not that many votes," he said. "I want to stop that."
Thompson seconded Edwards' proposal to change the funding formula.
"I want to make sure we have a voice so far away in Prince George," he said.
Moderator Monica Zieper had 17 questions for the candidates. The vast majority were for the mayoral candidates.
They ranged from questions around conflict of interest, support for industry, the difficulty of the last term, the sewer lagoon, promoting the community, involvement with the Chamber of Commerce, bylaw enforcement, keeping the McBride Elementary School open and much more.