By Goat Staff
---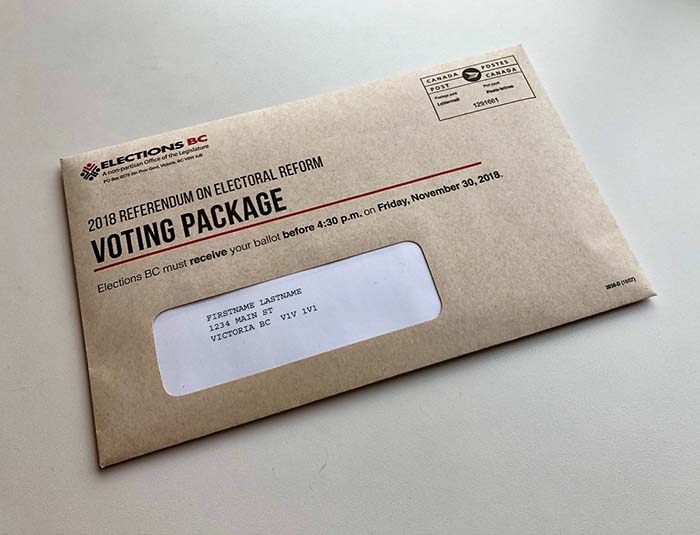 On Tuesday, Elections BC mailed out voting packages to registered voters and it marks the beginning of the  the voting period for the 2018 Referendum on Electoral Reform.
"We expect the Interior, Northern BC, Richmond, Vancouver, and Vancouver Island north of the Malahat to receive their voting packages this week," says Anton Boegman, Chief Electoral Officer. "Greater Victoria and the rest of the Lower Mainland should receive their packages next week, and we expect package delivery to be complete by November 2."
The start of the referendum mailing is the result of months of planning and preparation by Elections BC. Over the next two weeks, over 3.3 million voting packages will be distributed to registered voters in every corner of the province.
Packages are also being sent internationally to registered voters temporarily away from their homes in B.C., to locations as diverse as Korea, Kuwait and Zambia.
Elections BC encourages voters to get informed and vote in the referendum. Neutral information about the voting systems, short videos and a voter's guide are available at elections.bc.ca/referendum.
While some postal outlets will be affected by rotating strikes, Elections BC is going ahead.
"Elections BC is monitoring the situation closely, and the Chief Electoral Officer has the authority to extend the voting period for the referendum if necessary, should job action at Canada Post materially impact the referendum process. Any changes will be communicated with the public," said Boegman.
To vote in the referendum, an individual must be:
a Canadian citizen, 18 or older as of November 30, 2018, and a resident of B.C. for at least six months immediately before November 30, 2018.
If you are not a registered voter call Elections BC (1-800-661-8683) or go to elections.bc.ca/ovr to request a package.
Voters have until November 30, 2018 to return their voting package to Elections BC. Elections BC must receive completed voting packages by 4:30 p.m. on this date (a postmark is not acceptable). Voters are encouraged to return their package early to ensure it is received by the deadline.
Voters can return their completed voting package by mail using the postage paid return envelope included in their package. They can also return their package to any Service BC Centre or Referendum Service Office starting November 5. Office locations will be available at elections.bc.ca/rso.
For more information, visit elections.bc.ca/referendum, or call 1-800-661-8683 (Monday to Friday, 8:00 am to 8:00 pm, Saturday, 9:00 am to 4:00 pm).