by Andru McCracken
---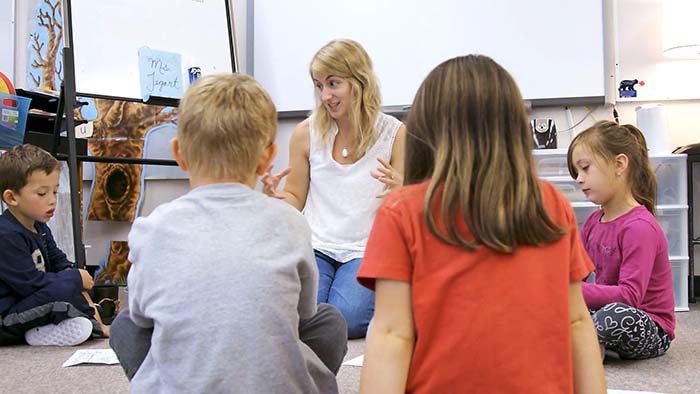 Maymie Tegart has won the Premier's Award for Outstanding New Teacher. The Blue River teacher has a class of 10 kids this year – and that is the entire school population. The Goat covered the story of her nomination in September.
Tegart said she had just finished a practicum in North Vancouver when she was hired at the Blue River school. The community was desperately looking for a teacher.
"They were basically handing out interviews to anyone and everyone," said Tegart.
Tegart was lured by the promise of Blue River's outdoor lifestyle and legendary powder snow.
"I met the [interviewer] and she said, 'If you like the outdoors it would be a good fit.'"
Tegart said the small school creates opportunities.
"If I have an idea, there is not much stopping me from putting in place," she said. "I'm the only one."
Tegart said having a small diverse classroom is good for kids.
"I think the kids are much more self-regulated and independent," she said. "They get independent, and occupy themselves."
Tegart also trumpeted the importance of kids being schooled in their own communities.
While being the only teacher allows her freedom, she admits that working on her own can be tough.
"It is very easy to fall in the mindset of being isolated and unsupported. It felt really nice to be recognized," she said of the nomination, something she echoed when receiving her award.
In a video about her award, Tegart reiterated her belief that a rural school is the heartbeat of a community.
"When I imagine my Kindergarten students taking the bus to Clearwater 1.5 hours each way, I realize that these schools can not simply be a victim in a financial numbers game. Kids deserve to learn in their own community. I am extremely grateful for my principal and the Board at School District #73 who continue to support this school," she said. "Some rural schools in our province aren't as lucky!"