By Andru McCracken
---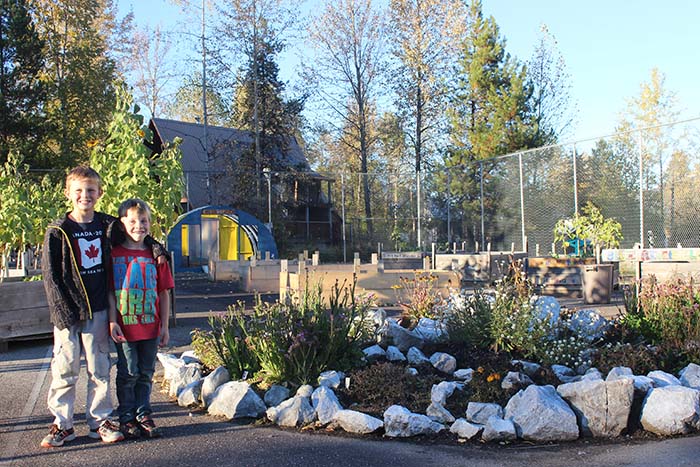 A community garden is helping grow Blue River's community spirit. In a small community, fresh produce is at a premium, but this summer Blue River started a community garden and it meant there was free spinach, lettuce kale, onions, peas and beans for community members… and that's just the beginning.
Lee Onslow said that community volunteers transformed the garden space into a relaxing, food producing area.
"Early in the spring the school children worked diligently to get the garden growing. They marched over and helped weed, to paint planter signs and to fill multiple garden boxes with the plants they started in their own indoor garden," said Onslow.
Onslow said community volunteers get their own individual garden boxes to grow their veggies.
She said with the help of Aimee Venor the two women created a beautiful rock flower garden.
"This took many rock foraging trips, days of shoveling dirt an understanding of the beauty that could be created on the pavement," Onslow said.
She said the feedback from the community has been terrific.
Drip hydration and a sprinkler system will keep both the inner and outer boxes watered over the summer.
But big things are being developed. Onslow is hoping to build a greenhouse on the back third of the garden space.
"The greenhouse will extend the growing season and enjoyment of the community garden for many months on either side of winter," she said. "I would love to see the greenhouse built within the next five years."
She said she will begin fundraising soon.
Onslow thanked a raft of organizations for their support, including Midget Mills from McBride that donated materials for the garden boxes.
"Without our volunteers, the Blue River Community Garden would not grow," Onslow says.
If you want to get involved, contact Lee on the community garden facebook page: