by Andru McCracken
---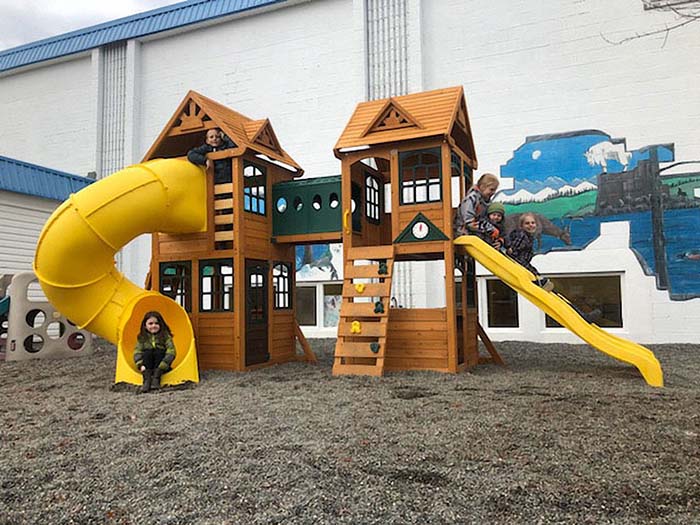 The Valemount Children's Activity Society expanded its services in time for school and it means the centre can help serve Valemount's booming baby population and provide after school care too.
Manager Krista Voth said that $52,000 worth of grants have upgraded their playground and an after-school care space. For families with toddlers, it is welcome news, because the centre can accommodate more kids under three.
Voth described the task of renovating the space and having it approved by licensing as "insanely difficult."
"It's not like we can call the licensing officer and she can come over tomorrow. In Prince George, they can call and say we really need this space approved come take a look," said Voth.
"We have to wait sometimes six months to a year for them to come and do a physical visit of the space."
That means Voth is sending measurements and photographs, drawing maps of where every single car, table, chair carpet is down to the square inch.
"It's hours and hours of work," said Voth.
Voth had high praise for both Brian Alexander who created the after-school area and Yard Expressions the company that completed the playground makeover.
The playground improvements are substantial: the kids now play on pea gravel instead of mulch and there is a new play structure and a teeter-totter airplane for little ones. A chain link fence makes the area brighter and friendlier than the old wooden fence.
She said both contractors worked around the daycare schedule and both came in on budget.
Changing needs
Voth said the childcare needs of Valemount have changed a lot since she first started six years ago.
"It is hugely different," said Voth. "There are more kids."
She said it was not long ago that the centre couldn't fill the three spaces it had set aside for children under three. Now it has a waitlist.
If you are interested in enrolling your child call the centre at 250-566-4826.