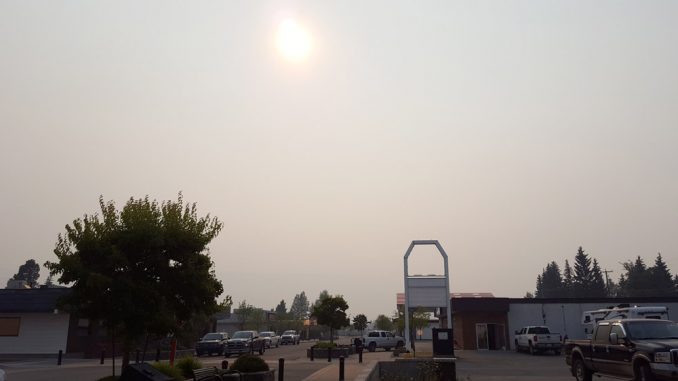 By Laura Keil
Those with respiratory issues may want to stay inside today, as wildfire smoke from elsewhere in the province effectively erases the mountain view.
The BC air quality monitor located in Valemount shows the air quality soared to more than 100µg/m3 this afternoon. It has hovered between 10 and 30µg/m3 in recent weeks. The BC air quality objective is 25µg/m3 average over 24hrs. See current levels here.
Firesmoke.ca shows the smoke drifting from fires in other parts of the province, though some local fires continue to burn around McBride & Valemount.
The BC Wildfire Service announced today that effective at noon Thursday, Aug. 9, all open burning – including campfires, Category 2 open burns and Category 3 open burns – will be prohibited in the Omineca region within the Prince George Fire Centre, which includes the Robson Valley Fire Zone. A map of the affected areas is available online.
More lightning is in the forecast for the Prince George Fire Centre and firefighting resources must focus on existing fires and new, naturally occurring fires, a press release says.
This prohibition applies to all public and private land within the Prince George Fire Centre's jurisdiction. It includes the use of tiki torches, fireworks, firecrackers, sky lanterns, burning barrels or the use of binary exploding targets (e.g. for rifle target practice).
The prohibition does not apply to CSA-rated or ULC-rated cooking stoves that use gas, propane or briquettes, or to a portable campfire apparatus that uses briquettes, liquid or gaseous fuel, so long as the height of the flame is less than 15 centimetres.
Anyone found in contravention of an open burning prohibition may be issued a violation ticket for $1,150, required to pay an administrative penalty of $10,000 or, if convicted in court, fined up to $100,000 and/or sentenced to one year in jail. If the contravention causes or contributes to a wildfire, the person responsible may be ordered to pay all firefighting and associated costs.
To report a wildfire or open burning violation, call 1 800 663-5555 toll-free, or *5555 on a cellphone.
Aug 7th air quality readings: