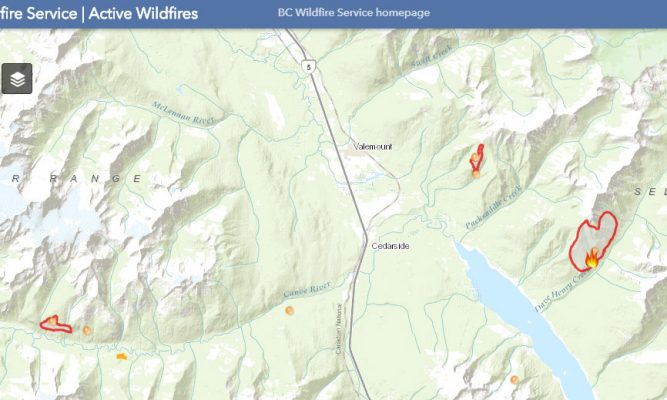 By Laura Keil
Air quality in the Robson Valley grew to dangerous levels Friday as several fires near Valemount devoured more forest.
Between Thursday and Friday, the Dave Henry Drainage fire alone more than tripled – from 165ha to 600ha – and is now a Fire of Note (600ha is 6km2). The fire on Mt. Mckirdy continues to burn and smoke and flames were visible from the ridge again last night. Both started during lightning storms at the end of July.
The air quality particulate rose to more than 200µg/m3 Friday evening. The 24hr average was close to 100µg/m3 (The BC government sets its air quality target at no more than 25µg/m3 over 24 hours).
Some 14 firefighters, four pieces of heavy equipment, and one helicopter are battling the Dave Henry fire. The fire is burning up the drainage away from the Village of Valemount driven by 50km/h upslope winds.  The Wildfire Service says water tenders are being used successfully on the south flank of the fire to prevent it from moving west.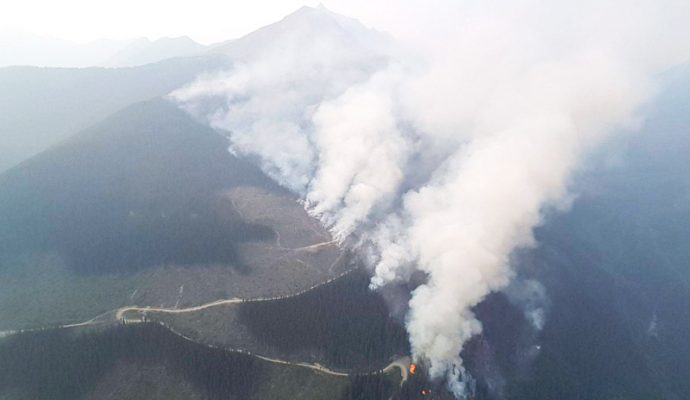 The Mckirdy Mountain wildfire remains at an estimated 35 hectares. The fire is burning up the mountain in steep terrain which is challenging crews, but the east and west fireguards are containing it, the Wildfire Service says. There are currently five firefighters and two helicopters fighting this fire. Crews are getting hose around the southern flank to strengthen the guard on base of the fire.
A fire at 55 km on East Canoe FSR is an estimated 100 hectares. The Wildfire Service says skimmers are currently working to support dozer guard along the south and west flank to keep the fire from affecting the main East Canoe FSR. There are 30 firefighters, heavy equipment, one helicopter and skimmers on scene. The Wildfire Service warns the public that there is heavier traffic along the East Canoe FSR and that unnecessary traffic can impede wildfire suppression in the area.
See up to date air quality information here.
View the BC Wildfire Service map here.