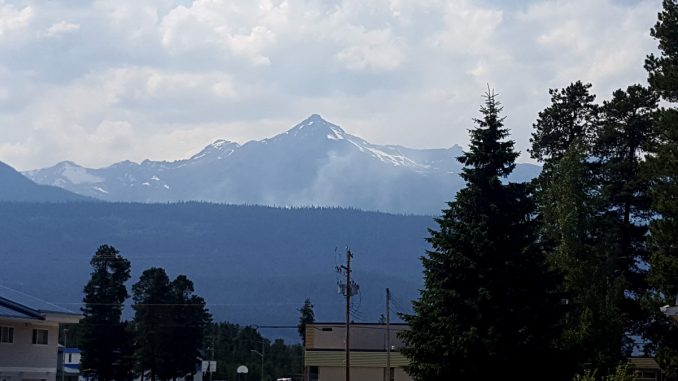 By Laura Keil
Environment Canada issued weather warnings today for the Yellowhead region (Valemount, McBride, Mt. Robson area) including a Severe Thunderstorm Watch and an Air Quality Bulletin.
A notice from Environment Canada says conditions are favourable for the development of severe thunderstorms. They warn of the potential for intense downpours, gusty winds and lightning.
The notice says strong wind gusts can toss loose objects, damage weak buildings, break branches off trees and overturn large vehicles and that intense lightning is likely with any thunderstorm that develops. Heavy downpours can cause flash floods and water pooling on roads.
"Lightning kills and injures Canadians every year. Remember, when thunder roars, go indoors!"
A low pressure system will slowly approach central BC today then drift into the Prairies by Saturday, Environment Canada reports. Heavy rain is expected later this afternoon, particularly along the eastern slopes of the Rocky Mountains across the McGregor and Yellowhead regions (including Blue River, Valemount, Mt. Robson and McBride)
Environment Canada also warned of smoke causing poor air quality and reducing visibility.  They've issued a Smoky Skies Bulletin for Kinbasket reservoir south of Valemount, McBride, Valemount and south towards Blue River.
"Individuals may experience symptoms such as increased coughing, throat irritation, headaches or shortness of breath. Children, seniors, and those with cardiovascular or lung disease, such as asthma, are especially at risk. Stay inside if you have breathing difficulties. Find an indoor place that's cool and ventilated. Using an air conditioner that cools and filters air may help. If you open the windows you may let in more polluted air. If your home isn't air-conditioned, consider going to a public place (library, shopping mall, recreation centre) that is air-conditioned," the statement reads.
Keep on top of air quality conditions right here on the Goat website: https://www.therockymountaingoat.com/local-resources/