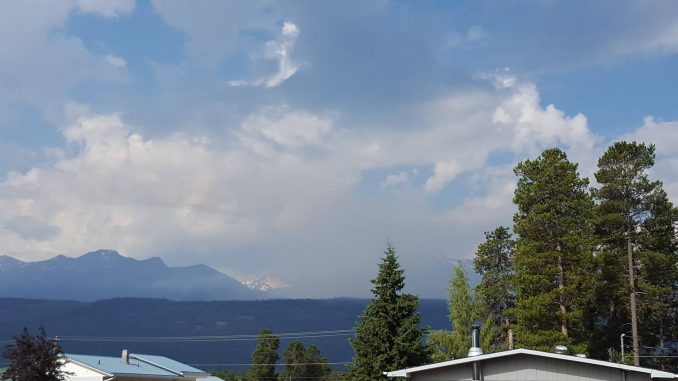 By Laura Keil
A highly-visible wildfire on the forested ridge west of Valemount has had many residents on their toes, but PG Fire Centre spokesperson Forrest Tower says they expect rain to help calm the blaze.
The lightning fire – dubbed the West Cranberry Creek fire – was labelled a Fire of Note by the Wildfire Service yesterday and ballooned to 45ha yesterday afternoon (it was previously estimated by them to be 40ha).
Heavy ground equipment (dozers etc) helped quell the fire overnight, Towers said.
Tower says residents may see the fire pick up again this afternoon around 4pm, when the ground has had time to heat up and the day is at its hottest.
But Towers also said the forecast is calling for rain over the next three days, starting today and that the fire has been burning up-slope and away from the town. The past week has been extremely hot, with afternoon temperatures reaching over 30 degrees.
Due to the steep terrain, the Wildfire service used 10 parattack members (firefighters who parachute in) to access the blaze. 10 members continue to fight the fires and Towers says they have requested 20 more firefighters. They have also been water-bombing the fire, and helicopters and planes could both be seen above the fire yesterday.
When asked about how long the fire could last, Towers said the rain we received in June means the fire is unlikely to burn deep.
"One of that size is unlikely to burn deep and stick around," he said.
Hot temps and little rain has led to a Moderate or High fire danger warning in the Prince George Fire Centre.
There are not currently any in the Prince George Fire Centre. Campfires, open fires and forest use fires are all permitted.