by Laura Keil
---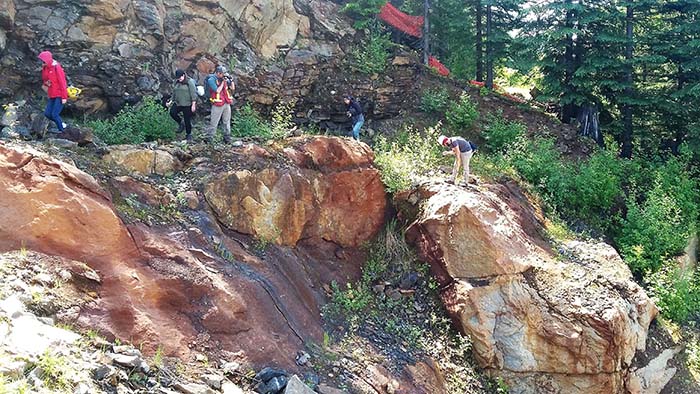 On June 23rd the Mineralogical Association of Canada (MAC) paid a visit to Commerce Resources' Upper Fir carbonatite-hosted niobium (Nb) and tantalum (Ta) deposit located near Blue River, B.C.
The site visit was organized and led by Dr. Alexei S. Rukhlov, P.Geo. of the B.C. Geological Survey (BCGS), and participants included the Canadian Museum of Nature's Dr. Paula Piilonen. The field trip was offered to participants of a mining conference in Vancouver.
The Upper Fir is one of the largest and best-studied Niobium/Tantalum deposits in the world, a company press release says. The composite body of mineral extends more than 1,450m in a north-south direction and as much as 800m east-west.
Tantalum and Niobium are sought-after substances in the electronics industry due to their conductivity, corrosion-resistance and other properties.
The Goat has previously reported that the Canadian company hopes to develop a long-term source of conflict-free and ethical tantalum which could potentially supply 10 per cent of the world's market for the long term. Much of the world's tantalum comes out of the Democratic Republic of the Congo, which is rife with civil war.
Last year, the company partnered with an Estonian scientist who has found a way to refine the separation process which could potentially be useful at the Blue River site.
Commerce Resources hopes to develop a Tantalum/Niovium mine at the site near Blue River. The company is also working on another development-stage mining project called the Ashram Rare Earth Deposit in northern Quebec.