by Ruby Hogg
---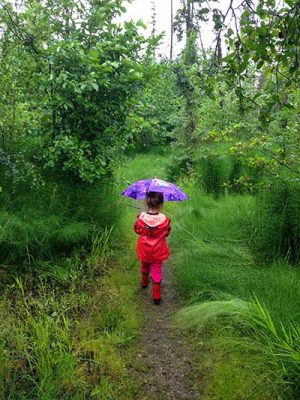 For whatever reason, whether you've just started hiking, you're recovering from an injury, or traveling with children, we have just the hike for you!
Rearguard Falls
The beginner hike of all beginner hikes, this short trail will take you down to the beautiful Rearguard Falls. From the viewpoint you might catch sight of a group of rafters careening down the river, or if it's later in the season, you might see the spawning salmon swimming up the fall.
Distance: 0.2 km each way, 0.4 km return
Time: 30 minutes
Little Lost Lake
This is a fantastic beginner hike with one slightly steep section at the beginning before it more or less levels out. There is one small creek crossing near the end before you reach the lake. There is a great little picnic spot, as well as a trail that takes you around the entire lake and back to the main trail. (There are a few steeper trails that head up to view waterfalls and overlook the lake but there is some loose rock and those two are considered a bit more difficult.)
Distance: 1.7 km each way, 3.4 km return
Time: 1-2 hours
Kinney Lake
Every year, thousands of tourists flock to this world-famous trail to see the old forest growth, the cyan blue lake, and the rushing Robson River. Make sure to bring a camera on this amazing trail. Once you reach the lake there is a picnic area where you can sit and bask in the beauty.
Distance: 4.5 km to the first picnic area, 9 km return
Time: 2-4 hours return
Cranberry Marsh Loop
Equipped with two beautiful viewing towers and panoramic mountain views, the Cranberry Marsh Loop (also known as the Starratt Wildlife Management Area) is a great place for beginner hikers and experts alike. The viewing towers provide great places to take a quick break. It's a great place to view birds, and lucky visitors may even catch a glimpse of a muskrat or other furry animal. With little to no elevation gain, and ample places to stop for a quick break, this loop is highly recommended.
Distance: 5.5km loop
Time: 1-3 hours
Overlander Falls
Watching waterfalls is such a great way to spend the day. There are two trails to reach these falls. The first is a parking lot on the right hand side at the top of the hill just as your leaving Mount Robson (headed towards Jasper) and the second is about 1 km down Hargreaves Road (across the highway from the Mt Robson Visitor Centre). The trail from the first parking lot is significantly shorter (600 m) while the trail from the second parking lot longer (5 km).
Distance: 1st parking lot- 600 m (return), 2nd parking lot- 5 km return (2.5 km each way)
Time: 1-3 hours
Swift Creek Lookout
This is a beautiful little trail that runs along Swift creek for some distance before you start a steady climb to the viewpoint. At the viewpoint there is a picnic table for you to sit on and take in the stunning view of Canoe Mountain and the valley below.
Distance: 3.5 km
Time: 1-2 hours
Jackman Flats
Jackman Flats is a great flat section with multiple options for the whole family. Choose between 4 different loops ranging in length (1km-6kms). There are once again, gorgeous mountain views (I am starting to see a trend here).
Distance: 1.4km-6.2kms
Time: 30 min-3 hours
For more info on these and other trails visit
www.valemounttrails.com
Ruby Hogg is a founder of the blog Wide Open World, a platform dedicated to getting others outside. Visit it here: www.wideopenworld.ca