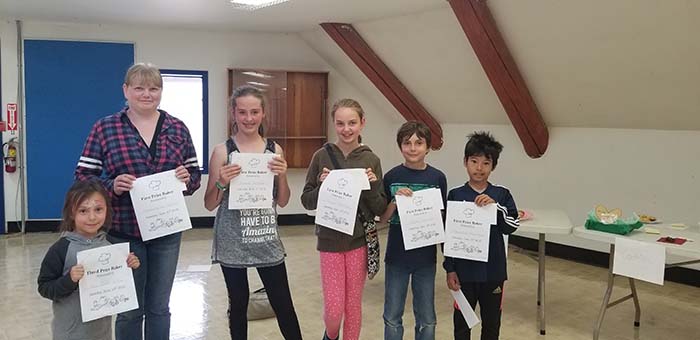 by Goat Staff
---
Valemountain Days held its first ever baking contest this year. They had 3 different age categories in five categories Pies, Cookies, Cakes, Squares, and Muffin/Cupcakes.
The baked goods were labelled with a separate number so judges did not know who baked what and five secret judges from the community assessed the baking.
They judged presentation (5 points), appearance (15 points), texture (5 points) and flavour & aroma (15 points). The judges were surprised that 9 out of the 11 contestants were children!
Although there were entries in each baking category, some age categories only had 1 entry.
Prizes were award in the following categories:
Cookies
5-10 years
1st Brandon Kromhout,
2nd Elena Kromhout
3rd Ivy Bernicky
11-15 years
1st Camryn Dennis
16 and up
1st Sharonrose Shalla
Pies
16 and up
1st Sue Prue
Cakes
11-15 years
1st Zykora Hocken
Squares
11-15 years
1st Paige Springer
Muffins/Cupcakes
5-10 years
1st Dylan Springer
Most overall points
1st Dylan Springer
First prize was a $5 gift certificate donated by Valemount Swiss Bakery and 2nd and 3rd prizes were donated by Three Ranges Brewing Co.
Parade Winners:
Overall: 1st place Valemount Library, 2nd place Northern Health
Business: 1st place Tete Jaune Lodge, 2nd place Mt Robson Whitewater Rafting
Vintage vehicle: 1st place Emelia Cinnamon, 2nd place Arnold Merrill
Club/Group: 1st place Minor Hockey, 2nd place Skating, special mention: V-Crew
Youth/Miscellaneous: 1st place King Road, 2nd place We love the bike park youth float
Industry/Service: 1st place Live Different, 2nd place Spay & Neuter Society
Horses: 1st place Shona Thorne, 2nd place Katie Eliot