by Goat staff with RCMP files
---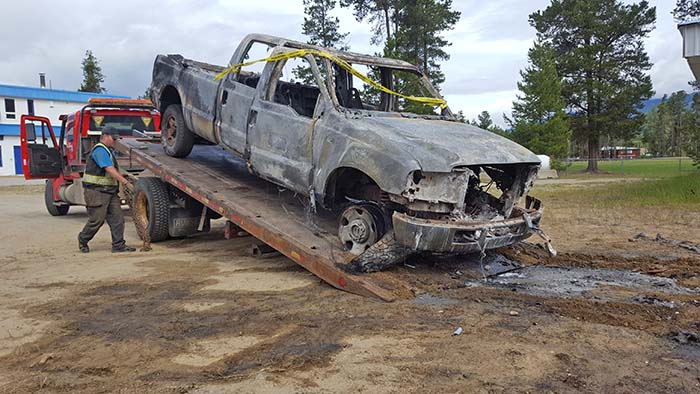 During the early morning hours of June 14th Valemount RCMP responded to a vehicle fire at the rear of the Canoe Valley Recreation Centre and Curling Rink.  Police found a white Ford pickup truck engulfed in flames. The Valemount Volunteer Fire Dept extinguished the blaze.  Through police checks, the Ford pickup was confirmed stolen out of Prince George.
Later the same morning, a vehicle was stolen from a residence on 8th Avenue and another in the same driveway rummaged through and the steering wheel damaged.  The suspects were able to access a set of keys left in the unlocked vehicle .
The Valemount RCMP are asking anyone who may have witnessed the incidents or have security camera footage to report same to the detachment 250-566-4466 or Crime Stoppers 1-888-222-8477.
Police say this is another reminder to secure vehicles and homes when you are not around, reminding residents that Valemount has an abundance of transient traffic flowing through during all hours.
"The location and size of the community provide crimes of opportunity, in this case small town trust of not locking doors, or securing vehicles.  It is a common belief that small towns do not secure items, and thus become easy targets.  This is a preventable crime and we ask everyone in the community to be vigilant with this as it has become a common occurrence over recent years.  For many, a motor vehicle is a substantial investment, would you leave your wallet or purse with $10,000 on your doorstep overnight? Probably not.  So think twice about leaving a set of keys or unlocked door in your driveway."