by Andru McCracken
---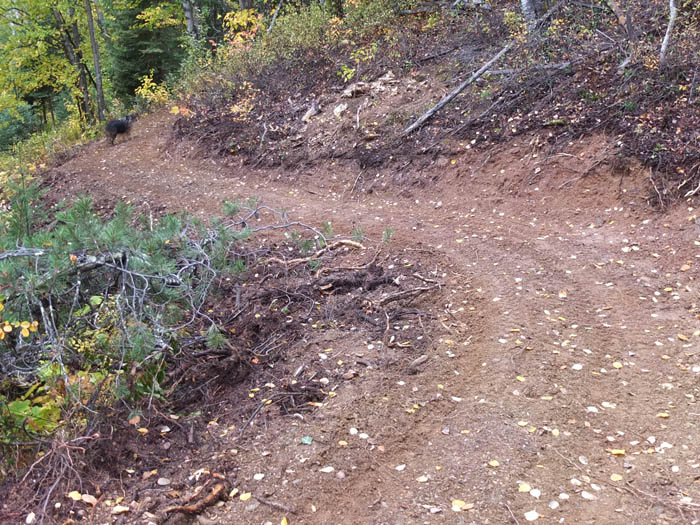 It has steep trails designed for mountain bikes, a road for shuttling, and a fair amount of bike traffic, but the McBride Trail system is multi-use, said McBride's Ingrid Stengler at the beginning of our interview.
"It's not a bike park. We have our highway signs up; it's very official. It's McBride Mountain Trails," said Stengler, who helps manage the trails with the Robson Valley Mountain Bike Association. "Not a bike park."
There is a lot planned and even more imagined for the McBride Mountain Trail network this summer, lots of it catering to mountain bikes.
Stengler said so far their trail network doesn't see much use, so she isn't too worried about people riding it early. That said, spring has not been kind to the trails.
"We had terrible run-off this year," she said. "We had this torrential creek-sized flooding taking out our trail. You can still see these trenches,"
Stengler said they'll repair the trenches when they dry up a bit.
The trails are closed to motorized users, but she mentioned that an errant dirt bike track helped divert some of the water.
"You shouldn't be up there with a horse or a dirt bike now," she said. "Tread with caution; if you notice you are going through wet sections and causing damage, you should stop."
Stengler said McBride Mountain Trails will see significant construction this year including a brand new climbing trail from the parking lot at one kilometre right to the beginning of the downhill trails at 6 kilometre.
"We want people walking up there too," she said.
"It kind of follows the same pattern as Rainbow Road. Instead of going up the road and having a grind, it will get you off the road and a real cross-country ride," she said. "You have views the whole way."
There will also be a new intermediate 3-km long flow trail built by Golden Dirt Trails
"The guys who built Valemount's Coaster are building our flow trail," she said.
The trail will be aimed at intermediate users.
"You should be able to take a kid on it and help them through it," she said.
This season Stengler and the Robson Valley Mountain Bike Association is considering hosting a Redneck Marathon.
"It would be a horse, bike and hike event. You show up with your bike, we match you with a horse person," she said. "We'd do it as more of a fun event, more of a poker run. Because you are definitely not going to run a horse down a [steep] trail."
While it's still in the pre-planning phase she said they might try and make it happen this season.
On the table for next year is a running event aimed at getting people ready for the Mount Robson Marathon.