by Goat Staff
---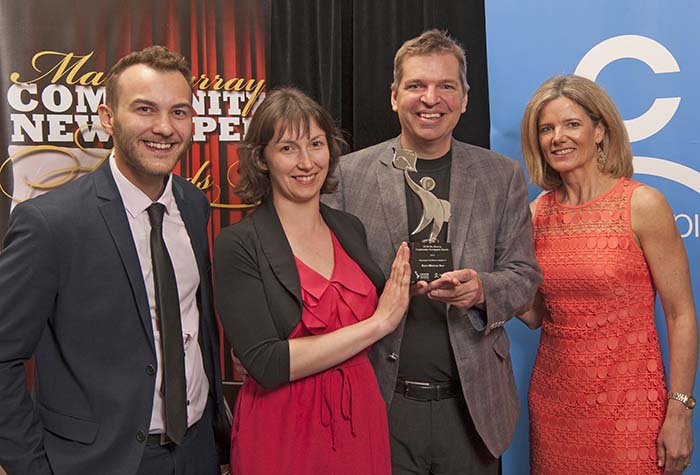 The Rocky Mountain Goat newspaper has won gold for Newspaper Excellence in the B.C. and Yukon Community Newspapers Ma Murray Awards again this year. It placed first among 15 eligible papers in the <1600 circulation category for work completed in 2017.
The Newspaper Excellence award honours papers in different categories – including editorial, photography, graphic design, front page, online presence, and ad design.
The 2017 team includes former editor Evan Matthews, current Editor Andru McCracken, Graphic Designer Greg Reimer, Web Manager Brooke Taylor, Admin Manager Alicia Hill, Salesperson Deanna Mickelow and Publisher Laura Keil as well as regular contributors such as David Marchant and Pete Amyoony.
"It is wonderful to work with such a devoted, talented team here at the Goat," said Laura Keil, Publisher and co-founder of the weekly paper.
"I'd like to take the opportunity to thank our advertisers – especially our long-time regular advertisers, without whom this work would not be possible."
The paper underwent a complete redesign during 2017 and also moved into a new office on 5th ave in Valemount, across from the IGA.
Despite the changes, the newspaper business is not an easy one, says Keil.
"Every reader, every subscription, and every ad matters to us," she says. "This is not an easy business, but thanks to support from the community we can continue to do this!"
Second place in the same category went to the Haida Gwaii Observer, and third place went to Clearwater's North Thompson Times, both of which were rated highly by judges.