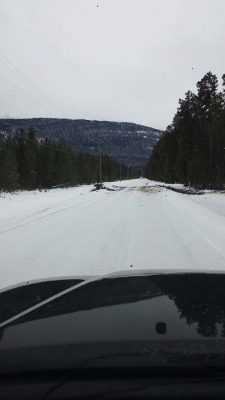 During this cold winter it has been my observation that our stewardship of the local Crown land forests has left a lot to be desired. Debris has been left scattered in ditches. Some vehicles have had to wait while trees were cut on the road. It gives an individual a feeling of disregard for our neighbors and the community.
One of the primary reasons our family moved to Valemount was an incredible little town with great views and good people. Our surrounding community is diverse and all of us have different reasons to enjoy our forests. Some of our community view the wildlife, hike, ski, they pick berries or whatever. Many of us have multiple reasons to enjoy our forests. I won't try to let my opinion offend, but I must state on this one activity a review of the permit is required.
I have been cutting firewood all of my life and for many different reasons. The first reason has typically been to supplement the cost of heating my home. Many times it has been a required for yard maintenance and of course for the good old social gathering around a summer bonfire. I have cut firewood and commercially logged in 4 provinces in Canada during my 54 years. I don't know all the rules by heart, but I have a reasonable understanding of rules for the cutting of personal firewood here in BC. I was also aware the moment that we moved to BC, 8 years ago, that I did require permits and permission before cutting. This is a review of the requirements for cutting firewood as per Crown land harvesting. All persons cutting firewood are required to have a permit and be able to display it if asked.
You must ensure that you are not cutting on private land (unless you have the land owner's permission). You may cut firewood only on vacant crown land.
You may cut only dead timber, whether standing (snag) or down (blow down).
Cutting live trees, cutting trees showing obvious signs of use by wildlife, or removing decked logs (such as those processed by logging operation) is strictly prohibited.
You must have appropriate fire fighting tools with you when cutting.
Stumps should be as low as possible, and must not exceed 30 cm in height (12 inches).
All branches must be scattered to reduce fire hazards, and no debris shall be left on roads or in roadside ditches.
All firewood must be bucked into lengths less than 1 meter before you transport it from where it was cut.
The transport vehicle cannot be a logging truck or commercial vehicle.
The firewood you harvest under this permit cannot be sold
Caution must be taken when falling dead trees that are adjacent to public roads. This includes highway act roads; forest service roads and road permit roads. Persons falling dead trees adjacent to public roads are encouraged to put safety process in place to ensure the travelling public are not put in danger.
I have always felt as a visible minority and a Canadian it was my right to cut firewood, but it is a privilege as well! I also know that my cutting isn't perfect but I try to cut as clean as possible and use as much of the tree as is possible (the whole tree burns). I encourage everyone in our community to review these rules as set out by Prince George Resource District.
The photos provided are of cutting done directly onto Pine Road, this mess was much more prolific prior to LDM pushing back snow banks. This is the type of behavior that we can and should be doing better at.
Sandy Hamilton
Valemount, BC