by Laura Keil
---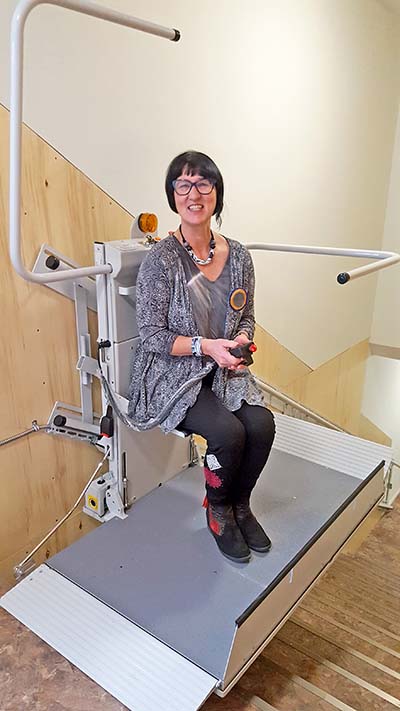 The Valemount Public Library's final touch on its renovations is a big red button.
The accessibility lift ferries library patrons unable to do stairs to and from the newly renovated basement.
Already, the basement is a hit.
"I have to give the janitor a schedule to get in there because there's someone in there almost every night," said library director Wendy Cinnamon.
Previously the basement was used for book sales and storage, and was not well set up for meetings.
Now a new meeting room, activity space (with armchairs) and bathroom make it an inviting place for groups to meet both day and night. Especially because it's free for non-profits.
Other renovations include a brand-new stairwell at the back of the building, automatic doors, new furniture and the removal of the old narrow stairwell at the northwest corner of the building.
The library is planning a grand opening to showcase the changes on Jan. 24th at 7pm. An armchair travel presentation of Africa by Ruby Hogg will follow the open house.
The library renovations were a joint effort: the lift was installed thanks to an Enabling Accessibility Grant. Columbia Basin Trust and the Valemount Community Forest funded new furniture. The Regional District paid for more door openers and the Village of Valemount added insulation to the building to make it more efficient. The building is Village-owned. The Valemount Public Library is a Regional District tax-funded service.