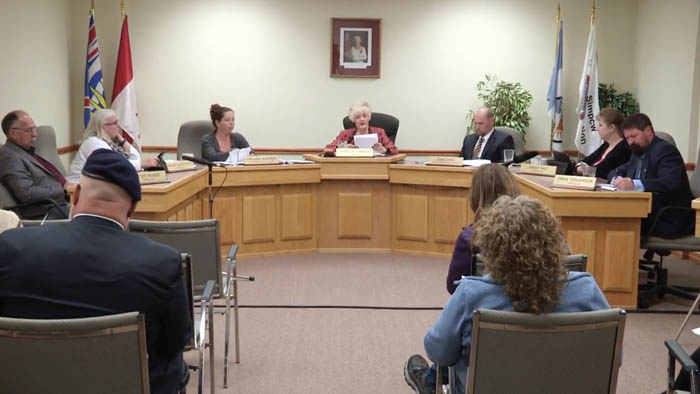 Mayor Jeannette Townsend, councillors Hollie Blanchette, Peter Reimer, Sandy Salt and Owen Torgerson met for the last regular council meeting in 2017 on December 12. Corporate Services Clerk Carleena Shepherd was the only staff person present.
The Royal Canadian Legion Military Service Recognition Book
Council recommended that staff be directed to place an ad in the Royal Canadian Legion Military Service Recognition Book for a cost of $275.
Prevention of Quagga and Zebra Mussels
Council received correspondence from the District of Sicamous and Harrison Hot Springs on the prevention of zebra mussels. Councillor Torgerson said that the check stops outside town have kept the local waters free from mussels so far.
Hillside Road Subdivision
Council received information related to a proposed subdivision outside the village. The proponent, Mr. Hooke wishes to create one lot from his current parcel. Staff noted in its background information to council that Public Works maintenance of Hillside Drive will not include access to the subject property.  Village staff will continue to maintain access to the water treatment plant only. On a side note, due to the popularity of the Valemount Bike Park, Village and Community Forest staff have been in discussions about a Memorandum of Understanding to ensure a minimum level of maintenance is continued on the main road.
BC Rural Dividend Fund Application
Council approved that staff apply to the BC Rural Dividend Program to support the development and implementation of the new year-round operations of the Visitor Information Centre/Municipal Office. This change in operations follows the end of Adventure Management Ltd.'s contract to operate the Information Centre on a seasonal basis this past year. The Village is now seeking someone for the position of 'Tourism Information Centre & Municipal Office Manager.' The Manager will also be required to create a three-year revenue‐neutral business plan.
Enforcement and Adjudication Amendment Bylaw 777, 2017
Council gave third reading to the bylaw that would change the time frame that exists between 3rd, 4th and 5th Animal Running at Large infractions from 15 days to 60 days from 2nd infraction. With the current bylaw, if there is no repeat offense within 15 days, the infraction is reset back to first offence and thereby not subject to imposing fines. The fine from first to fifth offense for animal running at large increases progressively from $100 to $500, and is in addition to licensing requirement fines.
Fees and Charges Bylaw 778, 2017
Council adopted the Village of Valemount Fees and Charges Amendment Bylaw No. 778, 2017 to increase utility water and sewer rates by 9.5% and solid waste rate by 3% for 2018 and 2019 fiscal years.
Council Reports
Community Forest meeting on December 4 was attended by councillors Reimer and Torgerson.
Housing Committee meeting on December 7 was attended by councillors Reimer and Blanchette. Council Reimer asked whether it might be possible to get a check list of items to be considered while creating a secondary suite. Shepherd said she would ask the building inspector to make one available and / or put it on the village website.
Tourism Valemount meeting on December 5 was attended by councillor Torgerson
Councillor Torgerson attended a joint Destination BC and North Thompson Valley Tourism Association meeting on December 6.
Councillor Torgerson attended the Lantern Lighting event organized by the Robson Valley Support Society on December 6, the National Day of Remembrance and Action on Violence Against Women.
Mayor attended a call by the B.C. Council of Forest Industries and BC Lumber Trade Council to discuss the softwood lumber ruling from U.S. International Trade Commission. BC Lumber Trade Council will appeal the ruling.
The Mayor also attended the Christmas Tree of Remembrance lightning event on December 1 and commended Gord Peters and Marion Plummer for their efforts in organizing the event.
The mayor attended the Chief Elected Officials Forum in Richmond, BC on December 7 and 8 and will provide a report to council in January.
Thank You
Council agreed to send a thank you letter to Peter Felmark who was retiring from the Tourism Valemount committee. He was involved from the inception of the committee.
In-Camera Item
Council closed the public portion of the council meeting to discuss one in-camera item.