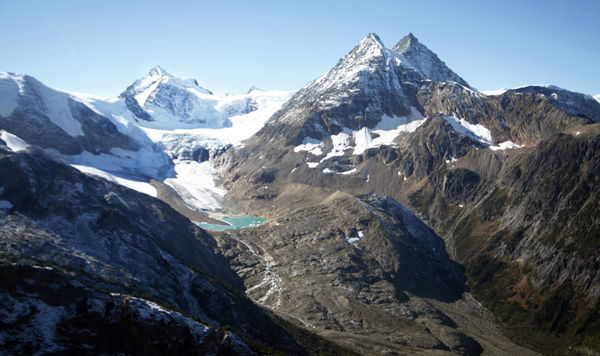 by Andru McCracken
Construction on the Valemount Glacier Destinations (VGD) ski and sightseeing resort is slated to get underway next summer, according to Tommaso Oberti, VP of Pheidias Project Management, the company in charge of managing construction.
"We've been doing detailed design work," said Oberti, who added they have already been in touch with lift manufacturers. Pheidias is in talks with both Doppelmayr Garaventa and Poma.
"Regardless of what we pick, it will be absolutely spectacular," he said.
Oberti said there are some changes to the plan that have far reaching implications for the project managers who are "working feverishly" to cost out the project.
Oberti says the aim is to provide sightseeing access to the McLennan Glacier and summer skiing access before they cut the ribbon.
"That means two summers of construction at a minimum before the project proceeds," he said.
He said they are also working on detailed costing for operations.
"For example, we're working with power generator manufacturers to estimate the cost of fuel, we're working with snowcat manufacturers to determine purchasing and leasing costs, software manufacturers for ski resort management systems, etc." he said.
"We are constantly getting prices and constantly making sure the proforma is right and ready to go.".
When asked for approximate prices of hillside lots, he said that the subdivision of those lots can not even happen until the recreation infrastructure is in place.
"Construction is planned to start next summer and will continue for at least two years before the project will open to the public," he said.
They are deep into working on employee housing solutions for construction crews. He said they are considering modular building solutions for employee housing. "That will permit us to have employee housing sooner rather than later," he said.
According to the company's website: "The resort will provide public access to high alpine glaciers for the first time in North America for sightseeing and year-round skiing. Reaching elevations of approximately 3,000 meters Valemount will also feature the largest vertical drop in North America, and one of the largest in the world, as well as some of the longest ski runs in the world."