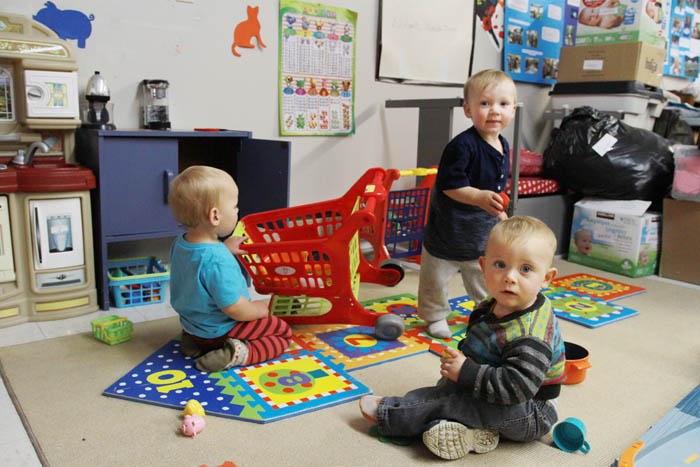 by Andru McCracken
If its building is a box, then the Valemount Lions Club is thinking outside of it.
The Lions Club has decided to rent their hall to the Canoe Valley Community Association (CVCA) to house the Kinnickinnickers Family Centre.
Rita Rewerts, a director of both the Lions Club and CVCA (which runs the family centre), explained that it will benefit CVCA, the Village of Valemount, the Lions and many other organizations in town.
Kinnickinnickers is currently located in Commercial Drive. It is a drop-in space for children and families which includes an indoor play space serving children from 0 to 6 years old, a clothing exchange, book and toy exchange, even a diaper exchange.
Cindra Gurnon, administrator for CVCA, said the move is a win-win.
"It gives us the larger space to expand and it gives the Lions the stability of having a regular income," said Gurnon. "We have outgrown our space due to the community support. It will allow us to offer more programming."
Rewerts said the change will help fill the Lions Hall, which is underused. She says the Lions Club typically caters just two Christmas parties a year in the Lions building; the rest are off-site.
On reflection, the society found the proceeds from catering were being used to pay the expenses of owning the building.
"Our feasibility study showed that the hall wasn't an asset," she said. "It was a liability."
Rewerts says they realized that by giving over the hall over to a community organization that needed it, the money made from catering could go back into community projects instead of paying bills for the hall.
The Lions have a long history of giving back to the community, including the gazebo and legacy play equipment in Centennial Park.
Rewerts said with their hall rented out full time, it will drive more users to the Village of Valemount's community hall and the Regional District's arena.
She said they hope to build a new entrance in the east wall of the main hall, on the library side and install some windows.
The move is planned for November.