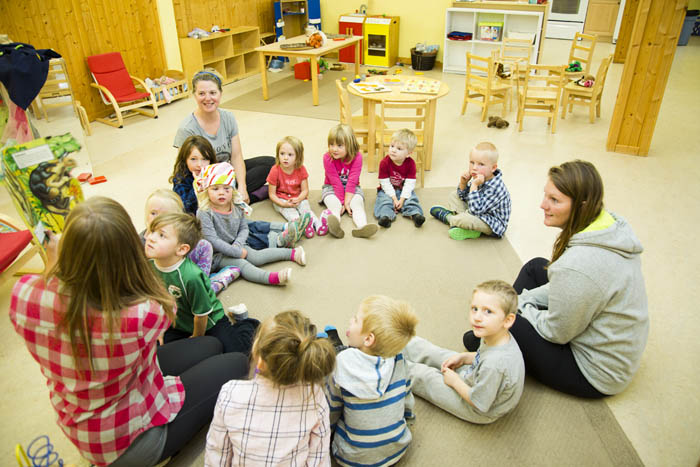 by Andru McCracken
Krista Voth, the new manager of the Valemount Children's Activity Society is excited about the future as they approach their AGM on October 17.
Voth took on the position of manager in July.
"We're actually doing really well," said Voth.
Her first priority on taking over management was to fix some outstanding violations of the Child Care Licensing Regulation. The organization had been in violation of some rules for two years and while the issues didn't put kids at risk, they were required by licensing. The work paid off, and within a month the society received a clean report from Northern Health.
"There are no hazards on it as of right now, we're completely in the clear," said Voth, happily.
The daycare is currently full – with a maximum of 28 kids (fewer if there are babies), but Voth said the demand is huge and they are looking for ways to expand.
It is a bit of a puzzle though, she explained.
"You need your staff and your space. You can only have a certain number of kids per square footage. Within that square footage it depends on age as well," she said.
"We're trying to get creative to see what we can figure out, even possibly opening up afternoon spaces after preschool ends," she said. "We're looking at grants, whether that means renovating or a new building."
She said they are also considering satellite spaces.
In the short term she's hoping open up preschool from noon onward to more kids.
She said that when an Early Children Educator (ECE) currently on maternity leave returns, they'll have the most staff they've had in ages.
Two employees are working towards their Early Childhood Educator certification and are currently working under exemptions and are being funded by a federal Canada Jobs Grant.
If you are interested in joining the team then attend the society's annual general meeting on October 17.
She said she currently has an amazing board.
"I'm praying most of them will stay because they are on board with what we want to do and we are on the same page," she said.
"If somebody wants to come and take over fundraising, that would be amazing," she adds. "Because we're full, we don't have time."