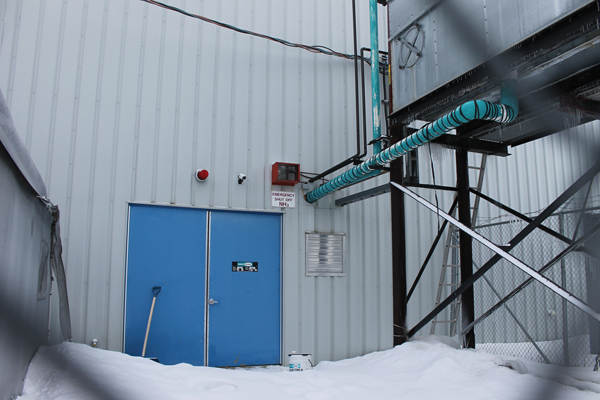 by Andru McCracken
The death of three people at a skating rink in Fernie is a reminder of the danger presented by the most common refrigerant: ammonia.
On October 17, an ammonia leak killed three men – two city employees and a contractor for a refrigeration company. An evacuation order for 55 homes and businesses around the arena wasn't lifted until five days later according to the CBC.
Spokesperson for the Regional District Renee McCloskey said the tragedy is a reminder of the seriousness and responsibility of handling hazardous materials like ammonia.
In January 2015 an ammonia leak at McBride's Recreation Centre led to an evacuation. Fortunately there were no injuries.
McCloskey said an unusual accumulation of snow and ice had caused a buildup of weight on a pressure relief valve in the ice plant. The build up, exacerbated by rain caused the pressure relief valve pipe to bend and rupture releasing ammonia into the atmosphere.
"The system was repaired immediately and the relief valves relocated, such that the incident cannot be repeated," said McCloskey. "The safety of our staff and the public in our facilities is paramount."
The Regional District maintains the arena in both McBride and Valemount. McCloskey said they maintain the buildings and review safety practices with staff on a consistent basis.
"As part of compliance with regulations, our rec centres are subject to regular inspection by Technical Safety BC (formerly the BC Safety Authority) and inspections were carried out on the rec centres in McBride and Valemount last Wednesday and Thursday."
McCloskey said the inspections were scheduled prior to the Fernie incident.
"While a full report is forthcoming, the inspection did not show any major concerns," she said.
McCloskey said meetings were held with rec centre staff to review safety protocols and ensure safety equipment was properly fitted and easily accessible in the event of an emergency.
She says they are currently exploring options to replace the ammonia plant – including geothermal.
"We are currently gathering information on how geothermal might be utilized and what funding programs could be accessed to further that study and potential implementation," she said.
According to Korie Marshall, a member of the Curling Society, said the Valemount Curling Club's ice plant does not use ammonia.
"Ammonia systems require certified staff to maintain, and the association has never had staff. Our plant is a freon-type system," said Marshall. "Our plant does not represent any risk to the community."
Marshall said they wouldn't be turning the plant on this year, not because of a safety concern, but simply because the club cannot afford the electricity to run it.
As previously reported, the club plans to use freezing winter temperatures to create the curling surface this year.