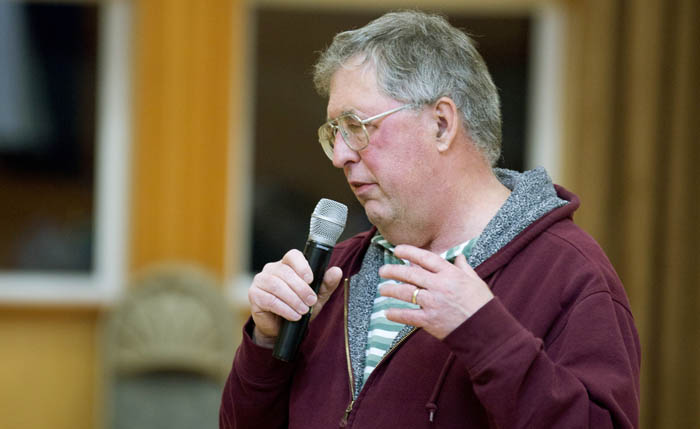 by Andru McCracken
The McBride Community Forest Corporation (MCFC) has chosen local forester Gene Runtz as its new manager.
Runtz is a Registered Professional Forester. According to a news release, interim managers Jeff McWilliams and Wes Bieber will be available to Runtz as he begins his work.
McWilliams and Bieber have been navigating MCFC over the last two years, through what the board deemed "a challenging and uncertain time."
The Board let go of former manager Marc Von der Gonna in August 2015 and halted logging shortly thereafter due to overcutting. The Village-owned corporation hired McWilliams and Bieber to help guide the organization forward but has lacked a permanent manager since that time.
At least two outspoken critics of the community forest appreciate the choice of the new manager.
Sheilagh Foster hasn't kept her views to herself when it comes to the McBride Community Forest Corp and she campaigned to open up the board for elections.
"I am delighted it is a local person," said Sheilagh Foster.
She is glad there is someone knowledgeable about forestry but also the community forest itself and the history of the organization.
Foster said she'll take it as a sign that things are going well if the Community Forest continues to elect directors.
She also hopes to see some diversity on the board in the future.
"I would dearly love to see somebody elected to the board with some interest other than that of cutting trees," she said. "An interest in the forest that is broader than that of the logger."
Len McCarty, who runs a small sawmill in McBride, was pleased to hear the news.
"I don't see how it can be anything but a positive thing," he said. "Just the fact that we now have somebody that might stick there for a while."
McCarty is an advocate for robust planning for both the short term and the long term for the community forest. He believes decisions have been made in the interest of making money, but he believes there is so much more that needs to be taken into consideration.
"Planning is the number one thing. Not planning for tomorrow but planning for down the road," he said.
McCarty congratulates Runtz on taking on the responsibility and said he has always appreciated his insight and openness in discussions.
He also appreciates Runtz' passion for growing things.
"I drive by his garden every day," he said. "When he starts talking about trees, he is talking about growing trees. He is talking about how to make the land better. That's how it should be and Gene will do that."