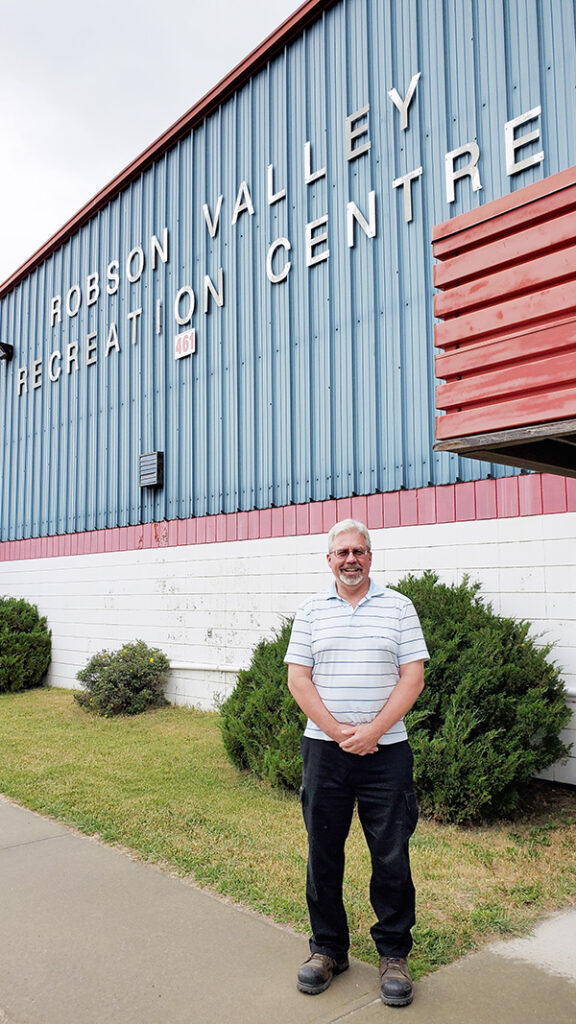 By Andrea Arnold
After 29 years of serving the communities of McBride and Valemount in his role at the recreation facilities, Lyle Lewis will be handing in his keys on June 30, 2022.
Lewis started as a Level 1 maintenance worker in October 1993. He worked his way up through the three levels of maintenance before stepping into the role of Recreation Facility Manager for the Regional District of Fraser-Fort George in 2009.
"I was headed for a job out of town when work at the recreation centres became available," said Lewis. "I loved the valley and the facilities, still do, so I took the option that allowed me to stay close to home."
During his time he has seen many changes beginning with a switching to Olympia Ice Conditioners for the arenas. These new machines were propane fired units, decreasing the carbon dioxide emissions in the areas.
"Most people call them all zamboni's, but Zamboni is actually a brand," said Lewis.
When he started, Lewis, a plumber and gas fitter by trade, had his focus was on energy recovery. So he got the wheels in motion to make changes that would result in better energy usage in the facilities.
"By saving money, it allows more money to be spent on other projects," said Lewis.
He switched the lighting in both arenas and the McBride curling rink to LED lighting, providing users with whiter and brighter light then what was previously used.
"We doubled the insulation in the ceilings," said Lewis. "This, along with dehumidification systems, allowed the option of summer ice."
Where possible, the changes that Lewis oversaw were made in both communities. It was important to him to provide the same level of service in both locations. However, in some cases, upgrades only occurred in one location. The Robson Valley Recreation Centre in McBride received a heat reclamation system that, along with the other upgrades of insulation and LED lights, cut the annual propane bill by 90%.
Both arenas went through drastic changes in the last year or so. Canoe Valley received a new chiller, making the switch from surge drum to a plate and frame system.
"The brine pump was replaced," he said. "Along with most of the brine and ammonia piping in plant. These changes allowed us to go with a third of the ammonia charge from the previous system."
McBride's facility is still undergoing a full plant replacement, on course to be completed in September. The new system will perform with at least a 33 per cent higher efficiency and operate with 200 per cent less ammonia.
The changes to both arenas, lowering the amount of ammonia, will result in cheaper and safer facilities for the communities.
There are a few projects that Lewis has started working towards, and he hopes progress will continue. In McBride, he has been working on plans to insulate the outside structure, and to replace the eavestrough system. In Valemount, updates include an improvement to the A-frame space to increase use and to repair some areas where leakage is an issue. He would also like to see activities like spin bikes or yoga classes use the multipurpose spaces.
He has enjoyed serving the communities through the work and he admits to even enjoying the stress that came with it. However, he feels that it is time to shift his attention through retirement.
"The time has come for me to retire and focus on myself and my family," he said. "We have bought a motorhome and hope to travel all around BC and Alberta. We love the west."
At this time, the Regional District does not have anyone lined up to take over the position, but they are pursuing a replacement.
"I believe there are locals who have the ability to take over," said Lewis. "The job isn't as hands-on and technical as it was when I started out. We have a good support group of techs who respond to issues in a timely manner. I remember waiting for crews from Vancouver or Edmonton. The job has developed and now involves more administrative tasks."
He wants to thank the Regional District for giving him the opportunity to serve the communities through his work.
Jim Martin, Chief Administrative Officer for the Regional District began working for the RDFFG around the same time as Lewis.
"It was always a highlight of a trip to the Valley to catch up with Lyle and talk about hunting, fishing and our respective sporting triumphs," said Martin. "Over his 29-year career, his passion for the recreation facilities in Valemount and McBride was always forefront."
Martin acknowledged Lewis's work to improve both facilities resulting in safer operations and a reduced GHG (greenhouse gas) footprint.
"On behalf of us all here at the Regional District I want to congratulate Lyle on a well-deserved retirement."
Throughout the years, Lewis has worked closely with many different staff members.
"There are not enough words to express my gratitude for these people," he said. "They have been loyal, encouraging, friendly and hard working. Without them, I wouldn't have been able to do anything."
Lewis has not regretted making the choice to work within the valley and close to home. He wanted to acknowledge his family and their support.
"I totally owe everything to my wife and family for their continued love and support throughout my entire career working for the Regional District of Fraser-Fort George."
As Lewis steps away from his role of serving both communities he wanted to express his gratitude to the people of the valley.
"Thank you for your trust in me to manage the facilities of both towns."