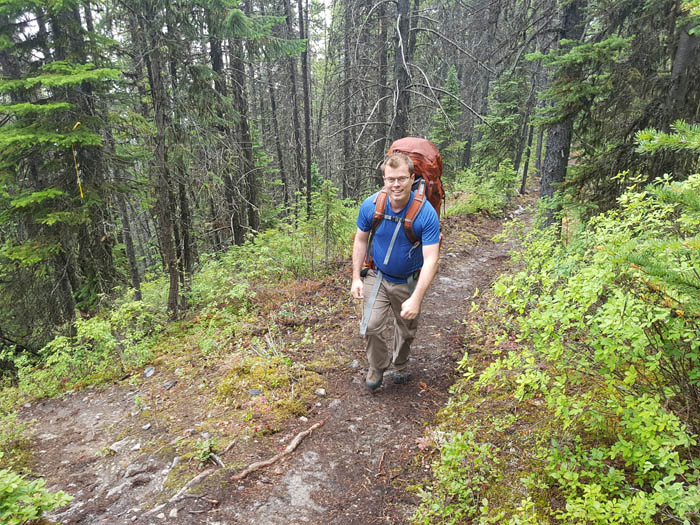 by LAURA KEIL
A trek into Valemount's alpine is easier thanks to improvements to the McKirdy Meadows trail.
The trail, which starts at the top of 5-Mile Road, used to cut a steep line up the mountain to the alpine cabin and surrounding meadows.
It was difficult for some to ascend and even more difficult to descend due to the steep grade, according to users.
But new switchbacks have evened out the grade, removing the steepest parts.
"It makes it a bit longer but you hardly even notice," says Patricia Thoni, President of the Valemount Outdoor Recreation Association, the group that spearheaded the work.
"It just makes it so much more pleasant going up and down."
The switchbacks add about 2km of distance to the original 3km trail, Thoni says, making the total hike to the cabin 5km. Hikers gain roughly 500m in elevation from the trailhead to the cabin. From the meadows, hikers get a vista of Mt. Robson, Kinbasket Lake, and surrounding mountain peaks.
Long-time local and hiking enthusiast Art Carson says the original trail was built by BC Forest Service as a recreation trail around 1980.
Carson says the new trail is easier, especially descending if there is snow.
"When there was snow on the (old) trail, you'd be reeling from one tree to another to avoid sliding … That's pretty much eliminated now."
Former residents Braden Hutchins and Heather Hachigan hiked the new trail last weekend and said while the original trail will certainly remain a fun and rewarding experience the new trail is a great alternative to the original grind.
"On the way up, the new switchbacks allow for a less tiring hike. On the way down, it's easier on the knees. Either way, the trail is easy to find and very well cleared," Hutchins said.
The non-profit received $20,000 from the CBT Community Initiatives Program and pitched in a few thousand of its own funds to complete the trail work.
Local builder and jack of all trades Jared Smith won the bid for the work. Smith says it took his crew 1.5 months to do the trail work, which was mostly done by hand using Pulaskis and chainsaws. He says there are a couple new scenic lookouts.
Thoni says they don't have plans to decommission the old steeper trail, though they'll put some natural "blockades" like branches so people are encouraged to use the newer one.
One way, it takes roughly 1.5-2 hours to hike to the cabin and 2.5-3 hours to hike to the upper meadows and ridge on the old trail according to Valemounttrails.com.