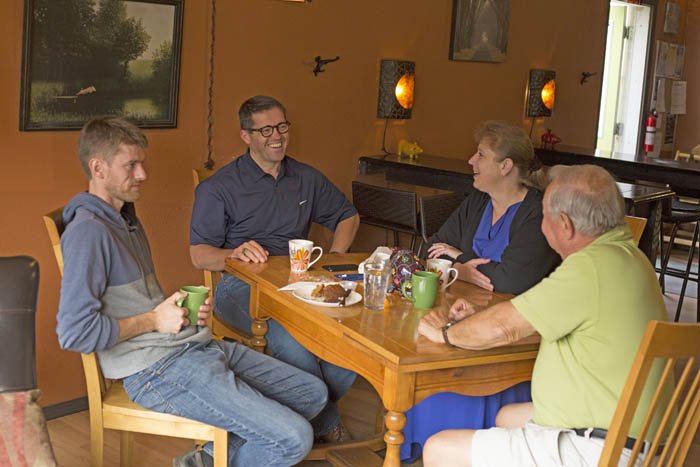 by Andru McCracken
The Rocky Mountain Goat caught up to our Member of Parliament Bob Zimmer when he visited Valemount and McBride on Wednesday, September 6.
"Often we go to different places and talk to mayor and council. Those are good conversations too, but we just wanted to have more of an informal kind of sit down and take any issues […] back to Ottawa or just chat," said Zimmer.
Zimmer said as an MP he has been advocating for the natural gas and forestry industry.
"Natural Resource and Development is probably my biggest focus and I just heard a few comments this morning about Kinder Morgan and how much it would benefit Valemount if it was to proceed," he said, of the twinning of the Trans Mountain pipeline.
In Ottawa he is the chair of the BC Conservative Caucus, which has 13 members including senators.
"We're just having some meetings next Monday on how to talk about strategizing how to keep BC prosperous in the future," he said.
"I bring together different groups to work on BC-specific issues [and] bring those issues back to Ottawa," he said.
Zimmer is also the vice chair of Families, Children, Social Development and Human Resources committee. "There are a bunch of different roles there," he said.
He is also the chair of the National Prayer Breakfast.
Zimmer said he's very happy with the Conservative Party's new leader Andrew Scheer.
"I supported him on his leadership bid," he said. "Rona (Ambrose) was a great leader and I wanted someone that carried on with a bit of a softer edge. More compassionate, wear your heart on your sleeve kind of guy, Andrew is that type of guy."
He is pleased to hear that the ski hill has received permits and that construction could begin relatively soon.
"I know a lot of us are anxious to see the equipment start to move. It's going to be a beautiful ski hill when it is developed; one of the largest glacial ski hills in North America," he said.
He's excited to get Prime Minister Justin Trudeau out for the grand opening of the resort if not for the groundbreaking construction.
"It is going to be quite the place to come to on Mount Trudeau," said Zimmer. "It will be great for Valemount and the community."
When asked if he was rankled by the fact the resort will be partially located on the mountain named after Justin Trudeau's father, Zimmer responded, "There are certain things that go beyond politics. The fact that the mountain is named after his dad is good, and it's good for him. I think we need to highlight that and make it a positive."