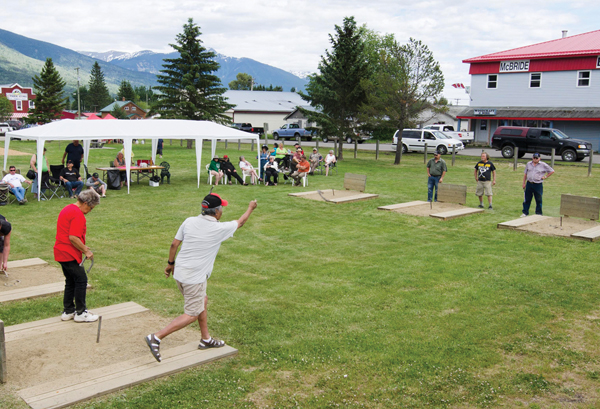 by EVAN MATTHEWS
As the summer months bring McBride's Pioneer Days ever closer, organizers are saying this year's festivities will be bigger and better than ever before.
Event organizer and Elks and Royal Purple member Kathy Molendyk says Pioneer Days is the main fundraiser the organization does throughout the year. Funds raised mainly go to operation of the Elks Hall, she says, and the aim this year is for a festival type environment.
"We have a lot of the same events as we've had in years past, while also getting some additional ones," says Molendyk, pointing to a more rounded out music line-up as an example.
"We've got more horses in the Heavy Horse Pull, too," she says.
This year, Pioneer Days takes place on Jun. 2, 3 and 4, but make sure to check the schedule for specific event times, Molendyk says.
The parade on Saturday, among the various local floats, will feature Live Different — the non-profit McBride Secondary School students work with to build houses in Mexico — as the organization has a float in the parade, and is putting on a mystery silent raffle, she says.
The annual Slo-Pitch tournament is a go with seven teams registered this year, and a Rock, Paper, Scissors tournament will be held at the Elks Hall on Friday Night with a $1,000 prize for the winner and a $200 prize for the runner up.
As the mountain biking infrastructure has started to expand, the Robson Valley Mountain Biking Association will be doing guided tours of its park all weekend.
"A lot of people haven't been up there," says Molendyk. "Depending on ability, there will be people who can take you where you want to go."
Kim and Ken McNaughton are sponsoring the Norman Lamming Memorial Horseshoe Tournament at the Village Park.
The McBride Secondary School will host games, there will be a rodeo and Jennifer L'Arrivee will be putting on her sheep herding demonstration at the Gigglin' Grizzly Pub.
If people need passport photos done, Molendyk says photographer Laura Keil will be at the festival taking photos.
With an influx of people in town, Molendyk says the food bank will have volunteers working accepting donations, too.
Closing out on Sunday, the festival will see a Pancake Breakfast at Elks Hall followed by Logger's Events at the McBride Self Storage Parking Lot and live music.
The Regional District is celebrating its 50th anniversary, which means a celebration at Town Park hosted by Dannielle Alan and a couple other guest appearances as well.
For the last 30 years, Pioneer Days has been a McBride tradition organized by the Elks. Molendyk says the events have been running for at least 45 years, but were called by a different name, and were run jointly by the Elks and Lions Clubs in early years.