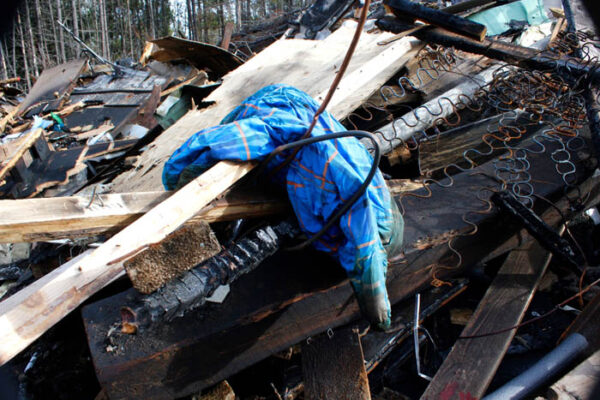 by EVAN MATTHEWS
A Tête Jaune man who helped a family in need is now facing criticism from his neighbours, who are upset about garbage on once-communal marshland.
The Goat has learned the debris from the Meek-Olson trailer fire in December was never taken to a landfill, but rather dumped on private land in Tête Jaune, owned by Al Smith.
The Valemount Fire Department confirmed the debris there was from the Meek-Olson trailer fire, though they were not involved in its disposal.
Neighbours are now upset about the eyesore and worried about potential water contamination.
Smith was says he was just trying to be helpful. He says the family was dealing with enough grief, having lost a child, and this was a quick solution for them.
"I was trying to save Allison and Clint some money."
At least four properties slope down to a marsh, where the debris is located.
Smith owns the marsh area, though his parents had a standing arrangement with the neighbours allowing them to enjoy the area for walks and cross country skiing.
Neighbour Garry Wallis says the issue isn't personal.
"We know Al is a good person. We're not trying to be negative toward him, and we don't want to create problems," says Wallis, who operates a Bed and Breakfast.
He says dumping is a problem in general, including illegal dumping, pointing to a pile of engines just down the road. None of the Tête Jaune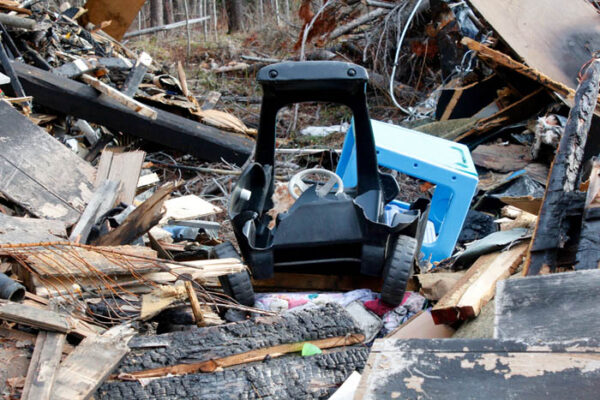 residents seem to know where the engines came from, he says.
Another one of Smith's neighbours, Ralph Karle, says during the winter when everything was frozen and covered in snow, it was far less of an issue. But now the debris is thawing out — potentially leaching onto other properties and into the water system — and the pile is no longer hidden, he says.
Despite the debris being an eyesore, Karle says his main concern is potential contamination of the area's water.
"We cannot leave (the debris) there… There's water everywhere down there," says Karle.
In addition to getting their drinking water from a deep well near the marsh, he says much of the area's water drains down toward the spawning grounds in the Fraser River.
"We just want people to know this isn't the right way to go about it, and to do it right next time," — Ralph Karle, Al Smith's neighbour
"It's cause for concern. It's not just about what it looks like," he says.
B.C. Conservation says they cannot speak to the potential of water contamination, as that is an Environmental Protection Officer issue. But Conservation said the debris is not directly adjacent to any streams or rivers.
In regards to alternative options, Conservation says Smith could apply for specialized burn permits — though extremely difficult to obtain based on the materials being burned — or he will eventually have to truck out the debris to Legrand landfill near McBride.
The Ministry of Environment told The Goat they can't comment due to the election period, but advised residents to call the RAPP line in order to start an investigation, which many residents have already done.
"We just want people to know this isn't the right way to go about it, and to do it right next time," says Karle.
The Regional District, the Ministry of Environment and BC Conservation have already contacted him, Smith says.
"Maybe I'll even have to remove it at my expense, and that's probably $10,000 I just don't have right now," says Smith.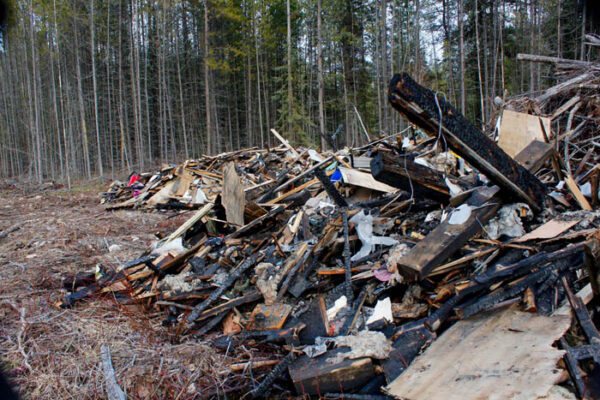 "I want to go down there… with the Ministry of Environment, so we can take a look and determine what we're going to do about it," says Smith. "Until such time, I have no plans for the debris."
The only landfill in the valley able to take fire debris is Legrand Demolition and Construction Waste Landfill. The Regional District says the cost of dumping there is generally based on volume since there is no truck scale there.
A standard 8m3 truckload of demolition or land-clearing debris would cost $62. Fire debris can fall into this category, depending on the materials. If the debris contained other waste, there are additional costs. For instance, applicants who want to dump asbestos would pay $301.25 per tonne of asbestos. Concrete would cost $98 per tonne. A more complete list of prices can be found on the regional district here: www.rdffg.bc.ca/services/environment/solid-waste-management/landfills/controlled-waste